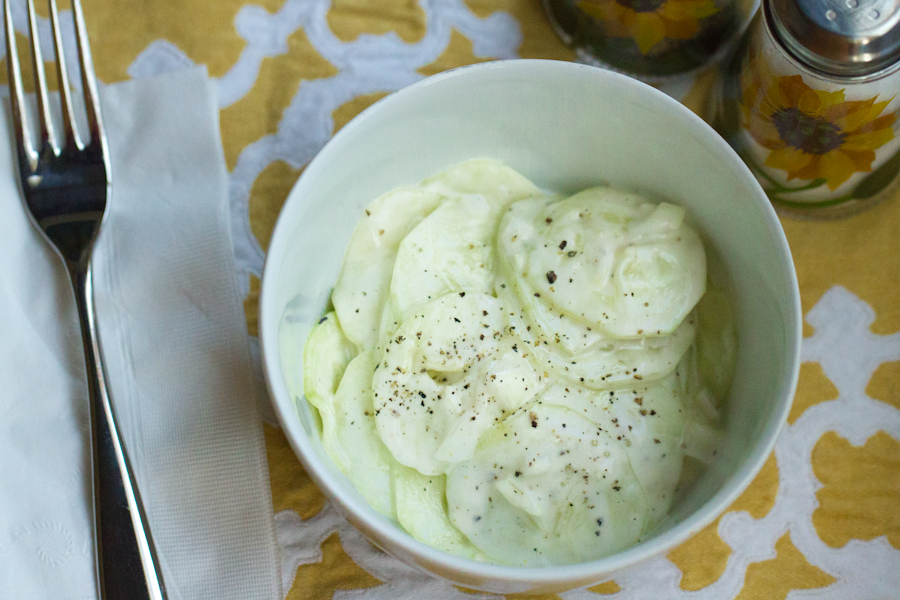 Summertime has FINALLY hit North Dakota… although this week it cooled down significantly! BUT we experienced some summer weather for a few days! It counts! 🙂 I don't know what screams summer to you or what your favorite parts about summer are… But I love summer because of the food. The fresh fruits and vegetables and of course all the bbq's, picnics, and potlucks!
My husband and I have been enjoying lots of summer meals complete with salads, grilled meats, and we can hardly wait for our sweet corn to be ready this year! I've been crazily trying to use up our entire freezer full we put up last year! In case you missed it, here's the best creamed corn recipe you will ever find! But besides sweet corn, one of my husband's favorite things in the summer is cucumber salad.
His mom has made this recipe for years. When my parents came to visit, they loved it so much they had to have the recipe too. Now my mom calls me or texts me everytime she makes it and just raves over how good it is. The best part? It is SUPER simple. I've made it so many times now I know the ingredients by heart. So now when you get an abundance of cucumbers, you can make this salad!
Cucumber Salad
2014-07-15 09:10:30
Serves 6
a perfect summer salad
Ingredients
6 large cucumbers, peeled and sliced thin
1 medium onion, diced
Dressing
1 cup dressing (Miracle Whip)
1/3 cup sugar
2 tablespoons white vinegar
salt and pepper to taste
Instructions
Mix the dressing together in a small bowl.
Add to the cucumbers and onions and mix well.
Refrigerate at least an hour before serving.
Half Batch
2-3 large cucumbers, peeled and sliced thin
1/2 medium onion, diced
Dressing
1/2 cup dressing (Miracle Whip)
2-3 tablespoons sugar
1 tablespoons white vinegar
salt and pepper to taste
Adapted from my mother-in-law
Adapted from my mother-in-law
Prairie Californian https://prairiecalifornian.com/