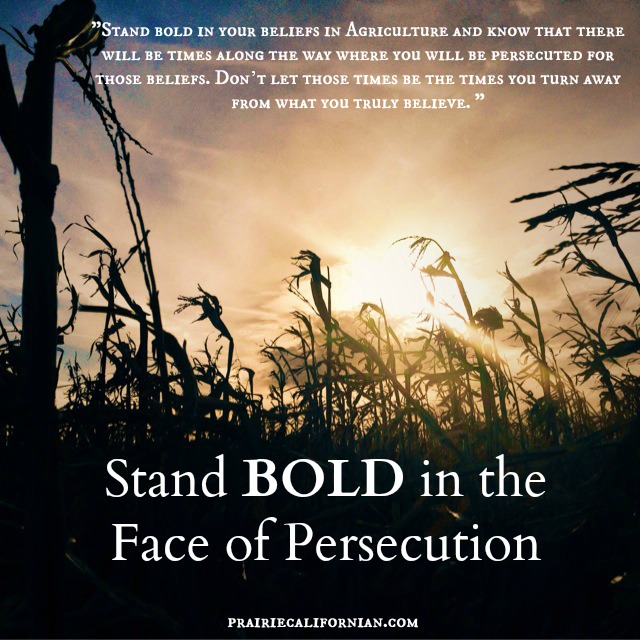 Do you ever have those moments where you hear something and immediately your mind applies the same principle to another facet of your life? That happened to me this week. As I was sitting amongst the pews in church on Sunday, the message spoke to me. It not only moved me in its content and how it applies to my life and my walk with the Lord, it moved me beyond that. My mind immediately went to agriculture. And our struggle as people trying to tell agriculture's "good news".
Our sermon this week was on persecution. Our pastor talked about how as Christians we should be prepared for persecution. He talked about the thousands of nameless, faceless people who, today, are persecuted and even killed for simply proclaiming the Gospel. As Christians, we shouldn't be living our lives in faith lukewarm or comfortably. We are BEYOND blessed to be living in a country where we can speak about our faith freely and we can stand up and be bold in our faith, yet so many don't. We should be. We should be bold in our faith and our convictions. Agreeing with what society dictates is "okay" and fleeing from our beliefs in fear of persecution is not what God calls us to do in his mission for us.
Matthew 5:10-12 tells us, "Blessed are those who are persecuted because of righteousness, for theirs is the kingdom of heaven. 11 "Blessed are you when people insult you, persecute you and falsely say all kinds of evil against you because of Me. 12 Rejoice and be glad, because great is your reward in heaven, for in the same way they persecuted the prophets who were before you." The same principle applies to telling the story of Agriculture.
Have you ever not hit publish on a post in fear that someone will disagree with you? Have you ever not commented on a Facebook post in fear that someone will insult you? Have you ever not joined a conversation in fear that your peers will persecute you?
Be prepared that if you decide to spread the "good news" of Agriculture, you WILL be persecuted. You will be called bad names and evil will be spoken to you. There will always be someone there to disagree with you. And that person may even be your friend, neighbor, or in the same industry as you.
So what can we do in the face of persecution? First, be bold. Grow thick skin! Don't flee from your convictions because you are scared of being slandered. Don't take to social media doing the very same thing that person was doing, slandering. As much as we want it to, two wrongs don't make a right.
Second, use the model of God's love. Acceptance doesn't equal love. You don't have to be accepting of another's beliefs in order to be loving toward them. It certainly is much easier! But God calls us to love one another, even our enemies. He does not call us to be accepting of what they may be "preaching". How do we, in agriculture, use the model of God's love? The same way Christians use the model of God's love when it comes to religious persecution…
1. We aren't going to leave our fellow peers in Agriculture alone. We aren't going to abandon them… Yes we may not agree with one another and we may not see eye to eye, but it doesn't mean that we need to turn against each other.Much like Christians being persecuted, agriculture is under attack more and more each day… Be bold in your beliefs but don't leave behind your fellow peers. Be committed to encouraging them, praying for them, and inspiring them to continue being bold in their passions too. This may even take forgiving someone who has sinned against you and LOVING him or her despite their sin. After all, nobody ever said loving your enemy was easy.
2. Don't forget their example. Use the actions of others as an example and a reminder to stand up for your beliefs. Gain strength from one another, inspiration from one another. It doesn't take agreeing with another person to be inspired by their firm stance in speaking out about what they believe. So often we think of agreeing with someone as respecting someone. You can love and respect without agreeing with that person. Don't forget the example these people who stand bold in their beliefs are making on the world.
As individuals telling the story of Agriculture, we need not let the fear of persecution stop us from telling the "good news" of Agriculture. We cannot let the fact that someone out there may say something bad about us stop us from continuing to speak out. We cannot let the Chipotles, HSUS, and other industries of the world that persecute us continually let us flee from our beliefs in Agriculture.
Stand bold in your beliefs in Agriculture and know that there will be times along the way where you will be persecuted for those beliefs. Don't let those times be the times you turn away from what you truly believe.