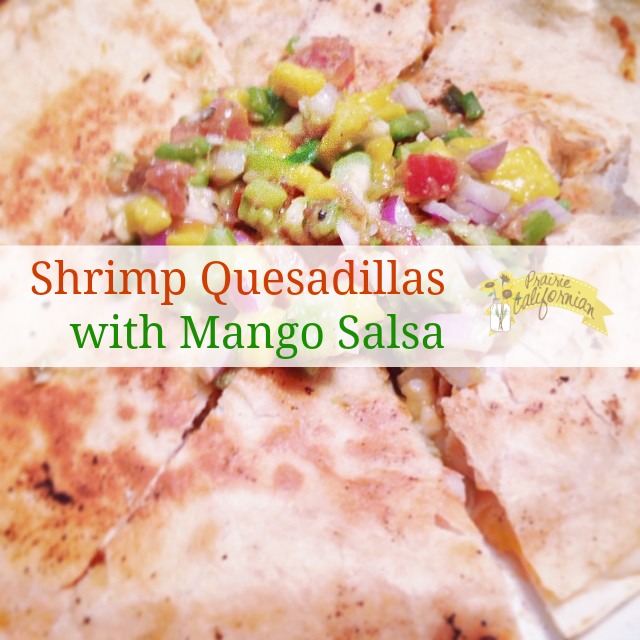 If there is one thing I miss about living in California… hands down, it is the Mexican food! I LOVE Mexican food and anytime I can get my hands on the most authentic recipes, I do! But I also love a little Tex-Mex or Mexican inspired dishes as well. This weekend on my show for OurHD.tv I decided to spice it up… So I made some shrimp quesadillas along with some mango salsa to accompany it!
There's this amazing Mexican inspired restaurant in Chico called Tres Hombres. They are known… well, mostly for their margaritas… but they also have some AMAZING quesadillas. One of my favorites is called the El Rey (named after our local theater). Anyway, the quesadilla has a whole bunch of yummy stuff in it… Most notably, shrimp. So I took some inspiration from Tres Hombres & one of my favorite people ever, the Pioneer Woman. And made some shrimp quesadillas!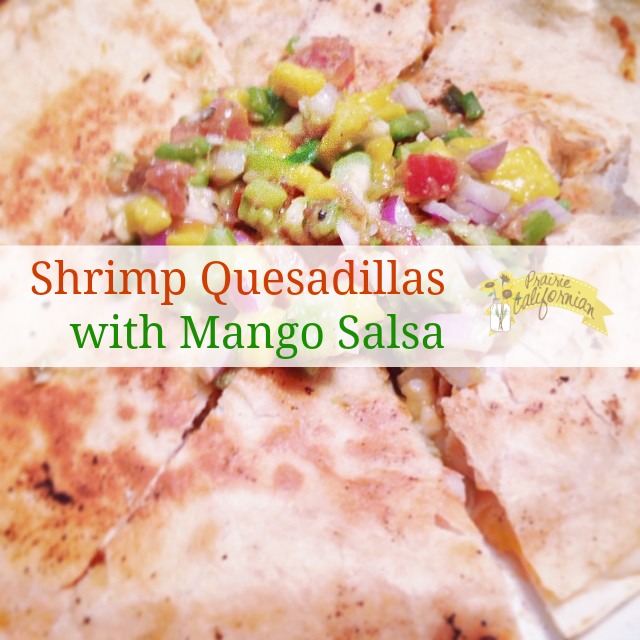 The mango salsa was an after thought… And luckily I had the ingredients in my fridge! When my parents were visiting, my dad decided to make some mango salsa as I had a few mangos that needed to be used up… It was delicious! So, I did my best to re-create it. As with all my recipes, feel free to make additions or subtractions. Like if you can't do shellfish, sub chicken or beef! And if mangos aren't your bag, use some pineapple!
Mango Salsa
Mango Salsa
2014-05-05 09:33:52
simple, easy, delicious mango salsa
Ingredients
Garlic (5-6 cloves)
Medium Red Onion
3-4 Green Onions
2 Tomatoes + 1 cup Petite Diced Tomatoes
Large Avocado
2-3 Mangos
2 Anaheim Peppers (or bell peppers)
2-3 Jalapeno Peppers (depending on how hot you like)
Juice of 1 lime
1 teaspoon salt & pepper
1 teaspoon cumin
1 teaspoon oregano
Instructions
Chop all ingredients and put into bowl.
Season with spices.
Mix to stir. The salsa gets better as it sits.
Prairie Californian https://prairiecalifornian.com/
Shrimp Quesadillas
Shrimp Quesadillas
2014-05-05 10:00:52
Ingredients
Flour Tortillas
12-14 Shrimp, Peeled And Deveined
4 ounces Mexican Red Sauce (El Pato is best)
Large Onion
2 Anaheim Peppers (or Bell Peppers)
2 cups Cheese, Grated (I used Cheddar & Jack)
2 Tablespoons Butter
Instructions
Pour red sauce over shrimp. Set aside.
Chop onion and peppers into slices.
Heat skillet over high heat. Pour in the shrimp with the sauce. Cook, stirring only occasionally, until shrimp is opaque. Remove from skillet and chop into bite-size pieces.
Return skillet to high heat and add butter. Cook onions and peppers over high heat until they start to get charred. Remove from skillet and set aside.
Wipe out skillet or in a separate skillet, heat butter. Place a tortilla in the skillet, then layer on ingredients: cheese, onions and peppers, and shrimp. Top with a little more cheese and a second tortilla. Cook on both sides until golden brown.
Remove from skillet and slice into wedges. Serve with mango salsa!
Adapted from The Pioneer Woman
Prairie Californian https://prairiecalifornian.com/
On deck for my show is my Mother-in-law's Famous Waffle Cookies! She made them for my husband's birthday and has everyone asking for the recipe! Keep an eye out for that! I was planning on it until I decided to cook Mexican food this week! Got to love Mexican food! 😉
If you have an idea for a show, please let me know! I'm always interested to answer questions or address foods that people have trouble cooking! Either way, I hope you join me Saturdays at 11 AM CST over on OurHDtv!