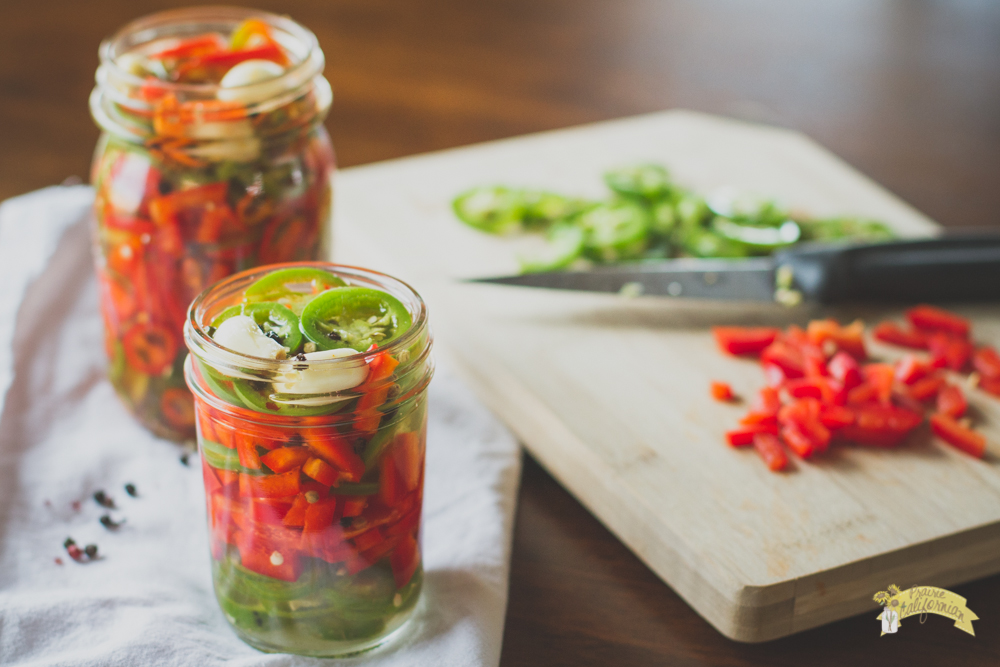 When I was in Chicago, we ate at the amazing Girl and The Goat. One of our side dishes was roasted cauliflower with pickled peppers. It was such an awesome combination. Once I got home, I decided to make my own pickled peppers. I used a combination of jalapeños and red bell peppers. The recipe yielded gorgeous jars of pickled peppers, plus it was a quick and easy recipe.
PEPPERS: ELLEN WAY
California
My name is Ellen (Sanders) Way. My family has been farming in the United States since the 1850's. For most of those years the family farmed in Iowa. My recent family migrated to Ceres, California from Grinnell, Iowa in the 1930's and bought a 30 acre farm. My grandparents, Lyman and Inez Sanders farmed that ground until the 60's when their children took over. My father, Jerry Sanders had a meat processing business on the property at one time and now grows almonds. I inherited 10 acres of the original ranch 10 years ago and I still grow almonds.
I attended Cal Poly, San Luis Obispo and studied agricultural business from 1986 to 1990. Upon graduation, I was hired by Sun World, a grower and marketer of fresh fruits and vegetables in the Coachella Valley of Southern California. I worked for Sun World for six years where I met my husband, also employed by Sun World, and we were married in 1996. In 1992, my husband Mike Way joined several Sun World colleagues and formed Prime Time International, which is now the largest grower of colored bell peppers in California.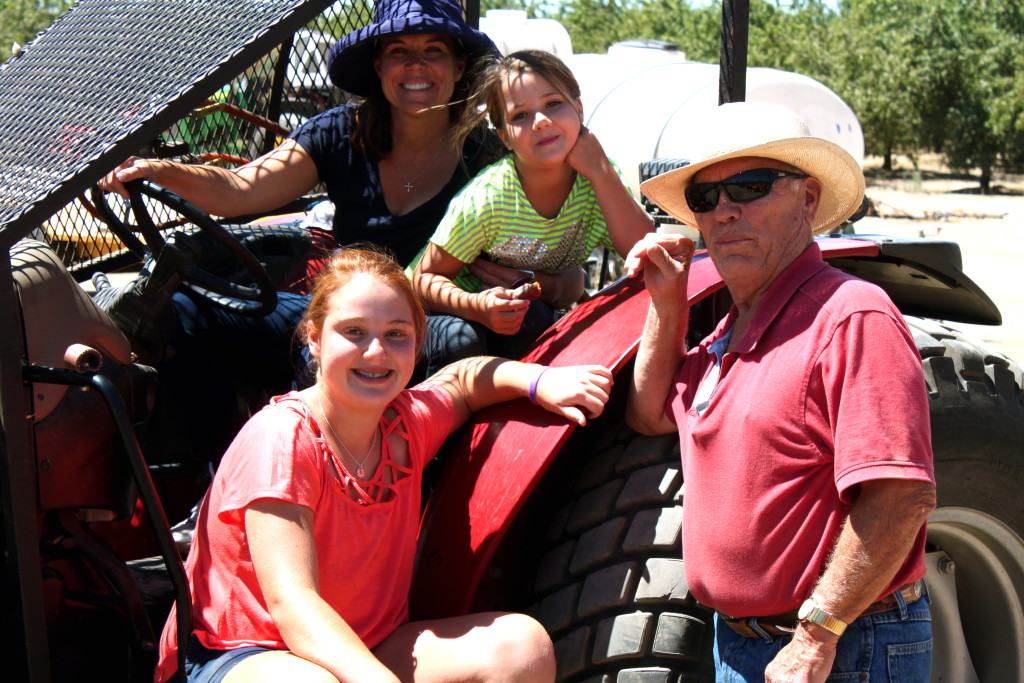 While I do not work in the field farming, I spend the time I have, when I am not busy being a Mom, educating people about agriculture and advocating for farmers. I have a deep rooted passion for agriculture and I love to tell people about how their food is grown. If we are to protect our valuable farming resources in this country, we have to educate people about what we do. I am a member of California Women for Agriculture (CWA) and had the thrill of being State President from 2000-2002. There are chapters of CWA throughout California and for more than 40 years, our members have been working hard to protect the family farm. As a CWA member, I give farm tours throughout the year and I have found that people just love learning about agriculture. The motto we use in CWA is, "if you eat food and wear clothes YOU are involved in agriculture." Weather we live in rural or urban America, we are all bound by the need to eat and I believe Americans want to eat food grown in America.
I believe farming is satisfying because it allows you to grow a product that will nourish people. It allows you to be independent and take risks. I also love the fact that I now own a farm that my grandfather purchased 80 years ago. I love the history of agriculture and the advancements we have made in irrigation methods, plant breeding, packaging, etc… Being part of a multi-generational farming family makes we feel proud; I have been part of something important to this country. I love the United States and I want farming to remain strong.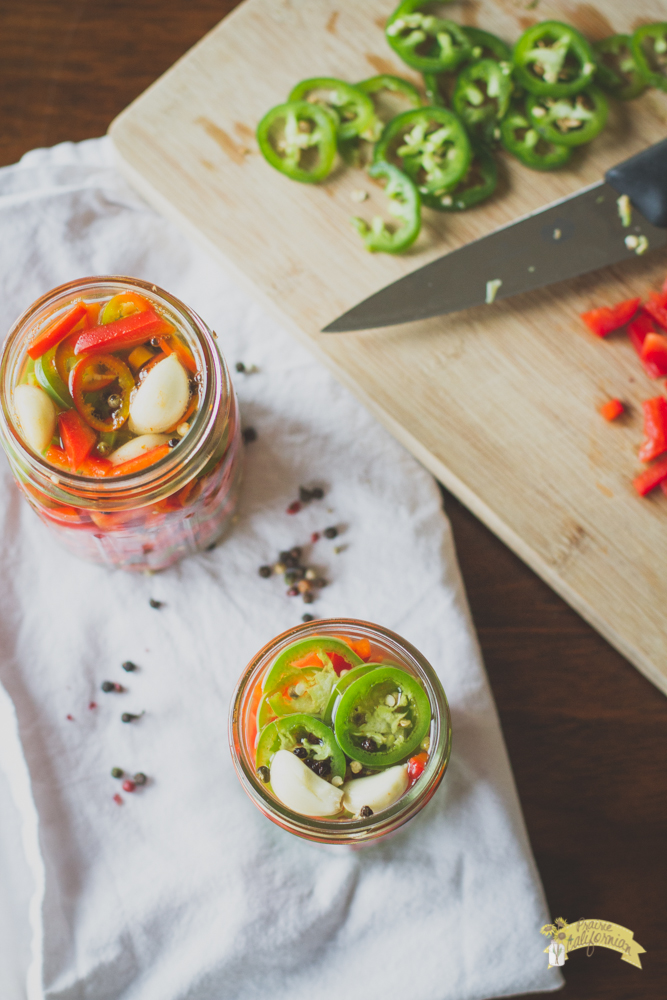 I sealed these by simply letting the hot vinegar mixture do its work and seal the jars. However, I am storing them in the fridge anyway. Feel free to water bath these for 10 minutes if you'd like. This recipe would be great utilizing a variety of peppers as well.
Pickled Peppers
2015-11-30 11:54:25
a quick and simple method to pickle peppers
Ingredients
1/2 pound jalapenos, deseeded and thinly sliced
1 red bell pepper, thinly sliced
1 cup distilled white vinegar
1 cup water
1 1/2 tablespoons sugar
1/2 tablespoon honey
3 cloves garlic
1 teaspoon salt
1 teaspoon whole peppercorns
1 teaspoon coriander seeds
Instructions
In clean and sanitized jars, layer the peppers and garlic until nearly full.
In a small saucepan, combine the vinegar, water, sugar, honey, salt, and spices. Bring the mixture to a boil stirring occasionally to dissolve the sugar.
Pour the boiling liquid over the peppers in the jar, filling to 1/4 inch headspace. Use a butter knife to remove any air bubbles.
Screw on a lid and tighten. Let cool on the counter, jars should seal. Once cool, store in refrigerator. The peppers should be ready to eat in a couple days.
Prairie Californian https://prairiecalifornian.com/