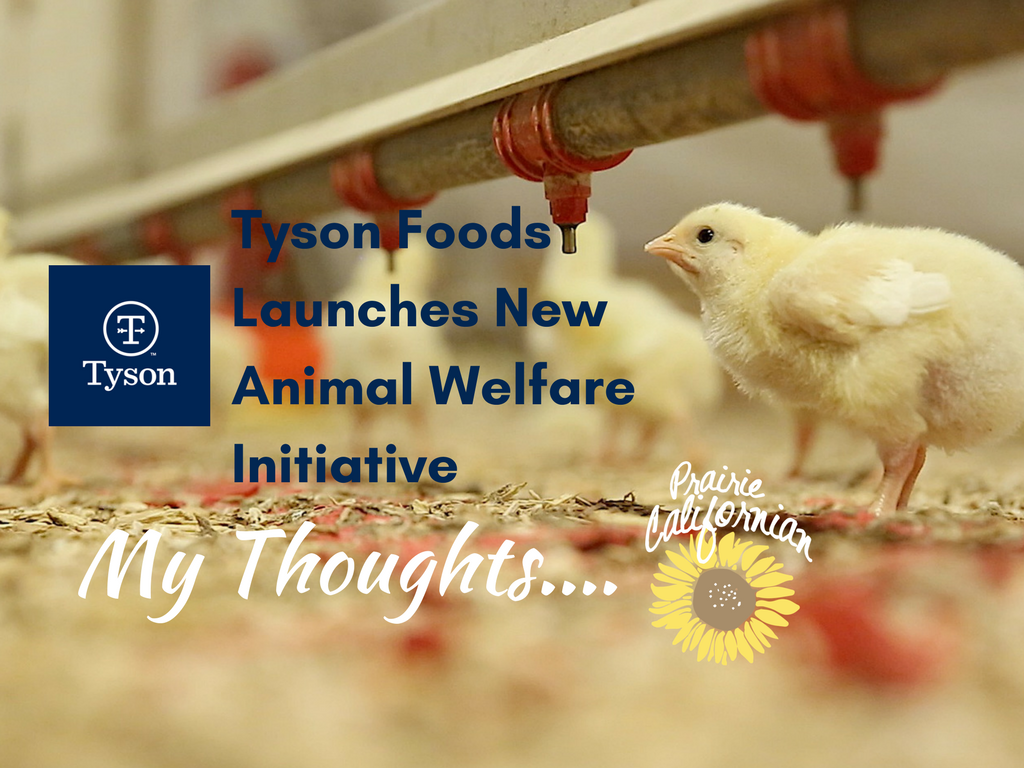 ** While this post has been sponsored on behalf of Tyson Foods, all opinions expressed are that solely of Prairie Californian. **
Growing up the daughter of a butcher, I grew up with an intimate knowledge of where the meat we eat comes from. It wasn't until I started school and began talking to other kids about what their parents did that I realized, not everybody has the opportunity to be so close to food production as I did growing up. The older I got, the more I realized that some parts of growing and raising food are actually quite mysterious and much of the process is unknown to those who weren't exposed to it. It wasn't until I really got out into the world that I realized the huge need for opening those barn doors, so to speak. I realized the intense need to have conversations with consumers that are calling for honesty and transparency. In fact, that is what propelled me into blogging in the first place!
Today, more than ever, I don't think it is any secret to anyone that consumers are seeking honest answers, transparency, and information regarding the food we grow and the meat we eat. They are curious about the practices, handling, and processing of these products. And if you ask me, they absolutely have a right to ask questions and seek information. I also believe that today more than ever, companies large and small, local and nationwide, organic and conventional have all begun to seek a seat at the table to engage in these discussions. Food companies are beginning to realize the power and importance of having these important conversations. And whether you support large or small, local or nationwide, or whatever other method of production, this is something we should all be celebrating!
When it comes to the meat industry, animal welfare is one of the top concerns of both the companies growing and processing the meat we eat as well as the consumers making informed decisions at the grocery store. Animal welfare is something that has been studied, monitored, and tracked for many years. On top of a minimum standard, many companies have developed and adapted their own set of standards to ensure the animals they are raising and processing for the consumer market are treated with the utmost respect and are meeting the most strict standards.
Last week, Tyson Foods announced a brand new, high-tech animal welfare program. I was extremely interested to read more as I am always amazed at how technology has allowed the meat industry, specifically with animal handling, to operate at the highest standards. As we continue to learn about animal welfare, we also continue to see changes by companies across the nation in order to continually improve standards.
Dr. Temple Grandin, a well-known animal handling expert in the field explains animal welfare like this, "Animal welfare is part science, part compassion, and it requires management commitment to learning, training and constant monitoring." She is also a member of Tyson Foods' Animal Well-Being Advisory Panel. This new animal welfare program by Tyson Foods includes three main changes which will be implemented beginning not only on the farm, but following into the processing facilities.
Third Party Video Monitoring
First, as part of their focus on sustainable poultry production, Tyson is launching a new initiative that combines the latest technology and training to improve the care of the chickens. They are implementing a third-party remote video auditing system in 33 facilities that will allow trained third party auditors to analyze feedback daily, weekly, and monthly to ensure animal welfare practices are being met at the standards set by Tyson Foods. They will also be launching a pilot project to assess the on-farm catching of birds for transport to processing facilities using the same video auditing system.
Animal Well-Being Specialists
In addition to third-party video monitoring, Tyson Foods is also the first in the industry to employ animal well-being specialists across all of its beef, pork, and poultry operations. The company has trained and will utilize nearly 60 full time animal well-being specialists which means at least one of these individuals at every processing facility that handles live animals. These individuals will work collaboratively with the already in place Office of Animal Well-Being to ensure the best in handling, training, and animal welfare practices. These individuals have received extensive training specializing in animal well-being as well as will be certified through the Professional Animal Auditor Certification Organization (PAACO).
CAS & Enrichments Pilot Programs
The third part of this animal welfare initiative includes Tyson Foods launching two new pilot projects within the next year.
The first pilot project is to test a process called controlled atmosphere stunning (CAS). For the past several years, scientists, veterinarians, and animal welfare advocates have supported the use of gas as a more humane way to render an animal unconscious before processing. In poultry, this would eliminate the handling of a conscious bird. Tyson Foods will evaluate the results of the pilot program to determine if CAS is a reasonable alternative to the existing methods they already have in place in their processing facilities. I have actually personally seen this process done extremely effectively with hogs and I am extremely interested to see the results from Tyson Foods in poultry.
The second pilot program will include Tyson Foods launching research into chicken house lighting and what is known as enrichments such as perches, etc. for the birds. The company will also continue their work on enhanced poultry nutrition and ventilation within the chicken houses as well as working with breeding supplies to ensure breeding and bird health.
"Ensuring the well-being of the animals in our care is a core part of our broader sustainability journey and these initiatives are the latest examples of our leadership in this important area," said Justin Whitmore, chief sustainability officer for Tyson Foods. "We're also piloting other potential innovations as we become the world's most sustainable producer of protein."
You can read more regarding this new animal welfare initiative from Tyson Foods. To find out more about Tyson Foods' commitment to sustainability, you can read their 2016 sustainability report.
On the Farm Facebook Live Event
In order to promote this new animal welfare initiative as well as further transparency when it comes to their sustainable poultry production, Tyson Foods hosted a rare look into a chicken house, straight on the farm via Facebook Live in June. Viewers were able to meet a fourth generation poultry farmer from Arkansas, one of Tyson's new animal well-being specialists, and a veterinarian from Tyson Foods. Throughout the first half of the Facebook Live event, viewers were shown the chicken house in depth. We were shown measures taken in order to meet biosecurity concerns and then we were taken inside in order to see the chickens themselves.
The second half of the Facebook Live event gave viewers a unique opportunity to ask and voice concerns they have regarding raising and growing chickens. The questions asked were engaging and ones that are often asked when it comes to poultry production. I thought the answers given by the panel were honest and informative. I actually learned a lot about chicken production, even from an hour-long Facebook Live event.
If you missed the event, you have to check it out. You can find the full length video below and I invite you to follow Tyson Foods on Facebook for more potential events like this.
Looking to The Future of Animal Welfare
It is my hope that whether or not you are a consumer of Tyson Foods' products that you have learned something new when it comes to animal welfare or raising and growing poultry. It is because of initiatives like Tyson Foods' new animal welfare standards that the entire meat industry continues to become better and better at learning, researching, and ensuring the highest standards are met when it comes to handling the animals we raise for food.
I applaud Tyson Foods for listening to consumers asking for more transparency and I look forward for what is to come from the meat industry as a whole as more and more we continue to work towards answering the questions and addressing the concerns many consumers have in regards to the meat we eat. And it is my hope that you take full advantage of asking questions and having your concerns addressed during the remaining upcoming live events as well as connecting with Tyson Foods' via their social media channels. Together, we can all make the future of our food as well as animal welfare the best it can possibly be and I invite you to be a part of that.
You can find Tyson Foods on social media by giving them a LIKE on Facebook, following them on Twitter, or checking out their Instagram feed.
Did you watch Tyson Foods' Facebook Live event? What did you learn from the event? Still have questions regarding poultry production?
Would love to hear more from you all!