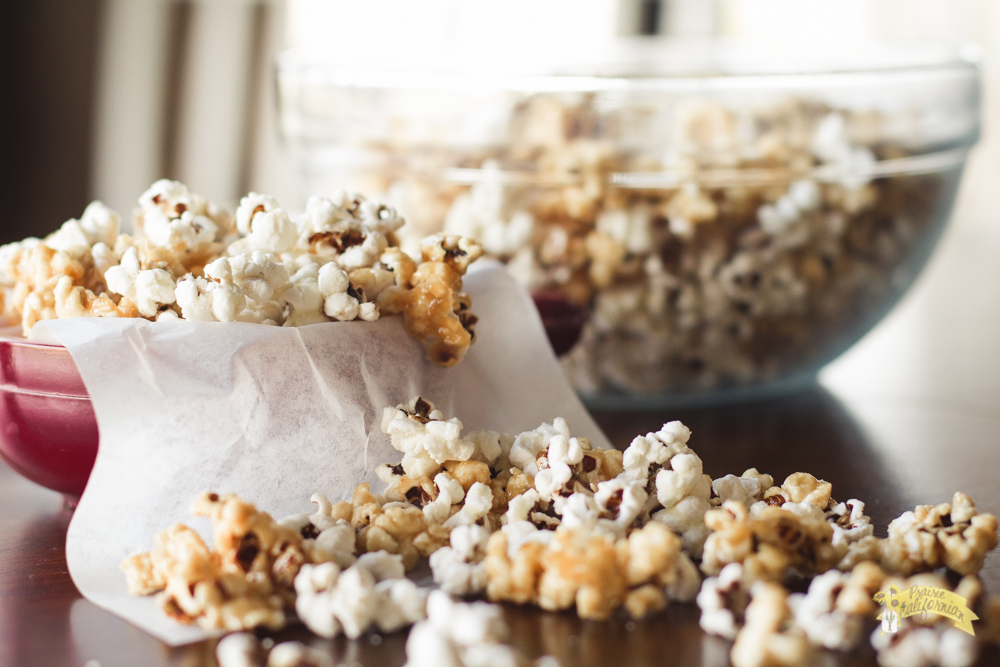 When I visited Chicago several weeks ago, I was gifted a bag of Garrett Popcorn. Inside the bag there was a mixture of cheddar popcorn and caramel corn. Let me tell you friends, it was magical. Fast forward to when the Bowman's of Pilot Knob Comforts emailed me regarding being featured for popcorn… Yep, I decided to make my own Garrett style popcorn. But I upped the ante a little, I made white cheddar popcorn and mixed it with salted caramel popcorn. You'll need to hide this stuff to keep yourself from eating all of it in one sitting. Thanks to the Bowman's for sending me samples to try out their popcorn! I hope they will be delighted to know that this was my first time popping my own popcorn… I know, it's a tragedy! But I can tell you what, I will never go back!
POPCORN: PILOT COMFORT KNOBS – THE BOWMAN'S
Onieda, Illinois
When did you start farming? What brought you into farming?
Andrew is really a lifelong farmer. There are pictures of him as a toddler out with his dad and grandpa in the field. Andrew's dad became ill when he was young, so even in junior high he was beginning to make important decisions– with his father's guidance. This was all possible because his father always took time to teach him and explain why certain decisions were made. Today, at 29 Andrew is the primary decision maker, along with his father's guidance, as well as the one setting the strategic direction for the farm. Karlie is a lifelong farm girl as well. She grew up on her family's farm in eastern Illinois.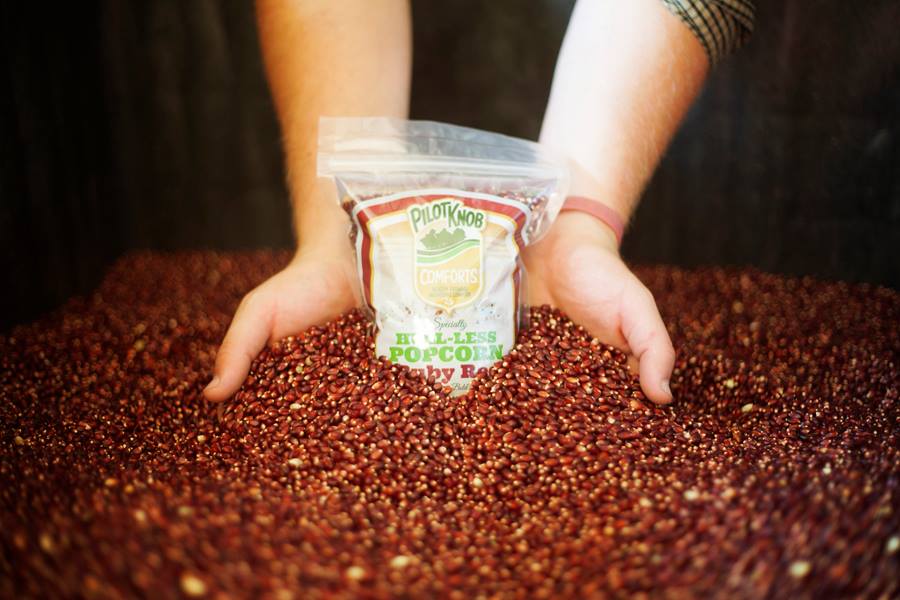 Who farms with you and what are their roles?
We farm with Andrew's parents. They are incredible leaders, supporters and encouragers. During crop seasons Andrew's father helps him as much as he can, but is limited due to illness. During harvest Andrew's mom hauls grain.
What has been the most satisfying part of farming for you?
We love farming because it allows us to focus on faith and family first. There is a lot of truth to the phrase, faith, family, farming. For us, farming has always been a family activity and business. We work everyday to ensure that for the future, if family (as in our children) want to remain involved they have that option.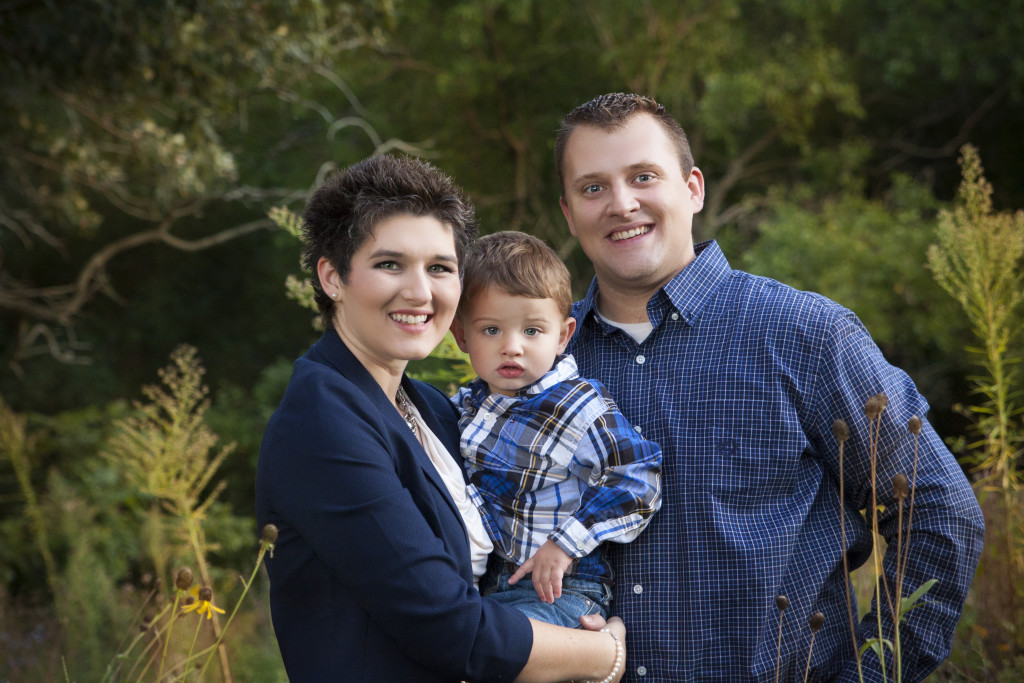 What crops (or animals) do you grow and why?
We grow yellow corn, white corn, non-gmo corn, soybeans, non-gmo soybeans and hull-less red and blue popcorn.
What is your favorite thing to do with a food crop you grow? (recipe, method of cooking, etc.)
We love to share our specialty, hull-less popcorn. Popcorn is meant to be shared among friends and families while making memories together. We love to enjoy our popcorn just as it is. Very rarely do we top it with anything– (although we do enjoy when others make caramel corn from our popcorn and share it with us)! Both varieties of our popcorn have a distinct natural taste. The Ruby Red pops up smaller, is very tender and has a naturally salty taste to it. Our Shaman Blue pops nice and big, has a bigger crunch and a naturally nutty taste to it. More can be learned about us at www.pilotknobcomforts.com. We'll have a fresh supply available in a few weeks.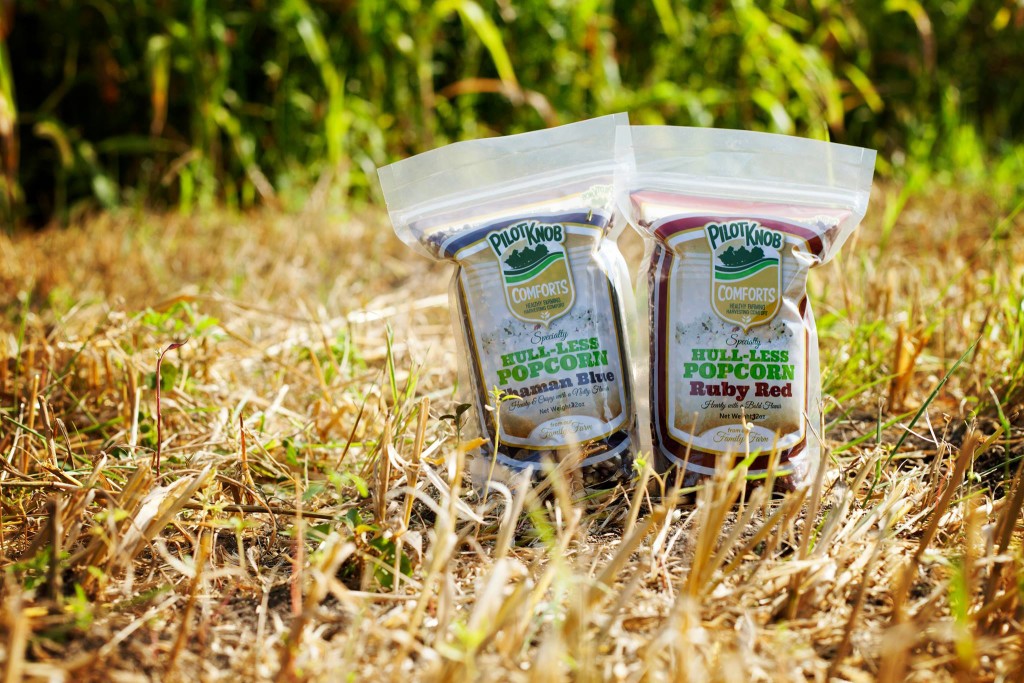 Any memories you want to share about this feature ingredient?
We are really just getting started making what we hope are years full of memories with our Pilot Knob Comforts popcorn. We love every aspect of the process, especially knowing that others are enjoying it. We love the fact our work with Pilot Knob Comforts often allows us all to work together, including our toddler.
You can find Pilot Knob Comforts on their website (you can order some popcorn too!) and also give them a LIKE on Facebook!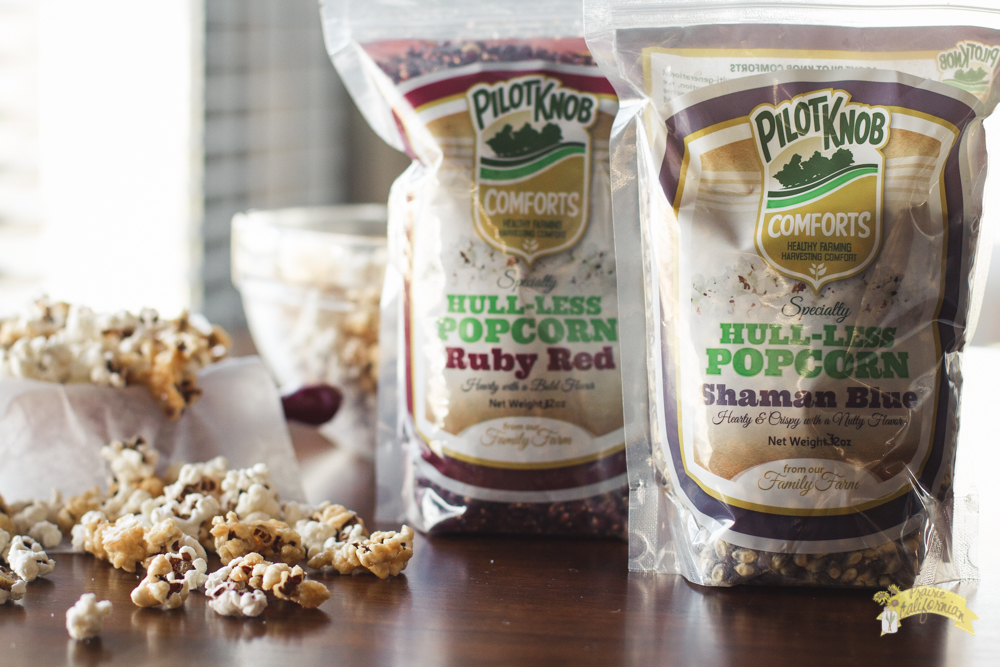 Feel free to make each recipe and eat separately… However, I totally recommend you mix them! The sweet + salty + cheesy is amazing! I popped my kernels on the stove according to the package instructions. Feel free to use an air popper or however you enjoy popping your own popcorn!
Salted Caramel and White Cheddar Popcorn
2015-11-12 10:46:00
Ingredients
Salted Caramel Popcorn
1/2 cup unpopped popcorn (popped however you'd like)
1 cup salted butter
1 cup light brown sugar
2 tablespoons heavy cream
1 teaspoon vanilla
1/3 cup light corn syrup
2 teaspoons kosher salt, divided
White Cheddar Popcorn
1/2 cup unpopped kernels (popped however you'd like)
2 tablespoons butter, melted
2 tablespoons parmesan cheese, grated (Kraft is perfect)
2 tablespoons white cheddar powder or seasoning (found in popcorn or spice aisle)
Instructions
Salted Caramel Popcorn
Preheat oven to 300 degrees. Line a large baking sheet with parchment paper. Set aside.
In a small saucepan, melt butter, brown sugar, cream, vanilla, corn syrup, and half the salt over medium heat. Bring to a boil and boil for 4-5 minutes.
Pour caramel sauce over popcorn in a large bowl. Stir to coat evenly.
Pour popcorn into prepared pan, sprinkle remaining salt on top. Bake for 30 minutes, stirring every 10 minutes.
Allow popcorn to cool before enjoying or mixing with white cheddar popcorn.
White Cheddar Popcorn
In a large bowl, pour melted butter over popcorn and stir to coat. Pour into the bowl the parmesan cheese and white cheddar seasoning. Stir to evenly coat.
Mix with Salted Caramel Popcorn for a sweet, salty, and cheesy treat!
Prairie Californian https://prairiecalifornian.com/
This post is part of my Thirty Days of Food series where I am writing about food and farming for the entire month of November, to find out more about it all or how to follow along, visit my Thirty Days of Food page to find more great recipes with farmer features!