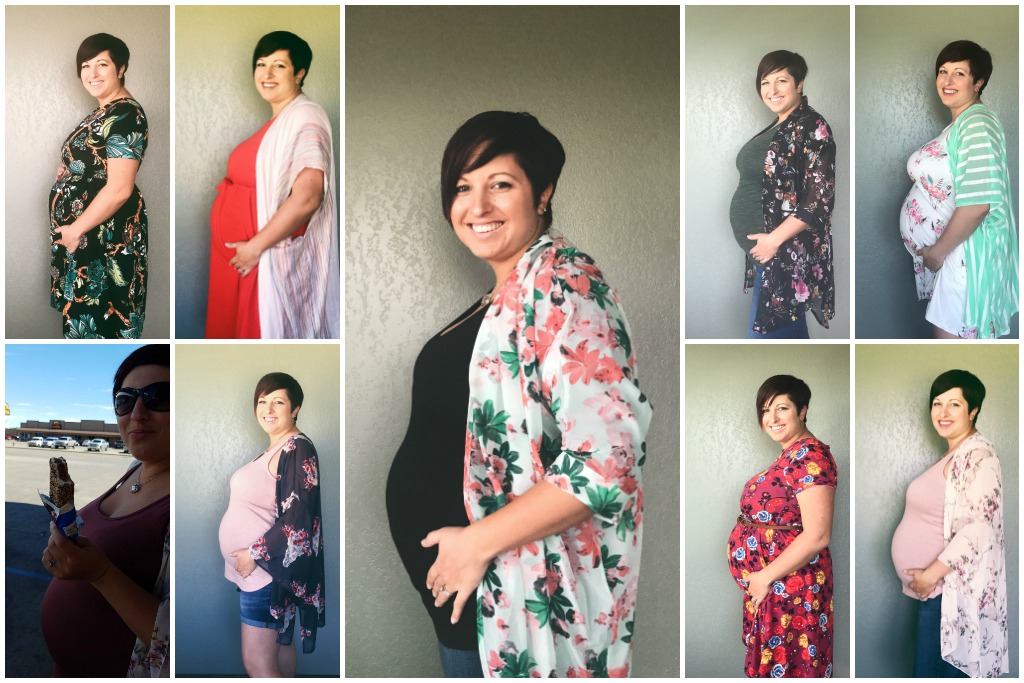 So for anyone who has been pregnant or is currently pregnant, it is no surprise to you that maternity fashion that is cute AND affordable can be hard to find. I find most of the time when things are super cute, they also come at a designer price tag. I have spent a considerable amount of time looking for outfits and things that I can mix and match during my pregnancy. If you were to walk into my closet, you would find a closet full of prints. I love prints and find wearing solids to be challenging to me. During pregnancy however, I have completely changed this up as I find solids to be more versatile and can be reworn with many different outfit combinations. If I have bought something that is printed, I will usually make sure it is something that I wear when I am not pregnant too!
My style pre-pregnancy mostly revolved around NOTHING tight or form fitting in my waist. I tend to carry a little more around there and I don't like accentuate that. This is something that has also changed with pregnancy, because HELLOOOO I have a pregnant belly and I can now get away with tighter tops and dresses and nobody thinks twice! I will say, however, that I still don't feel 110% comfortable with just wearing a tighter tank or dress without some sort of "cover up", mostly because I feel like with my short torso there is no line between where my belly starts and ends and where my bottom starts and ends. I envy those long torso-ed pregnant ladies who have a belly, back, and bottom. That ain't me. Pour one out for short torso gals.
Anyway, in hopes that this may help a fellow pregnant Momma out there, I wanted to share some of my favorite maternity fashion finds. Because Lord knows, when you are growing and growing, shopping is one of the last things you want to do!! Nothing you own fits well and let's be real, dressing room lighting completely blows!!
Kimonos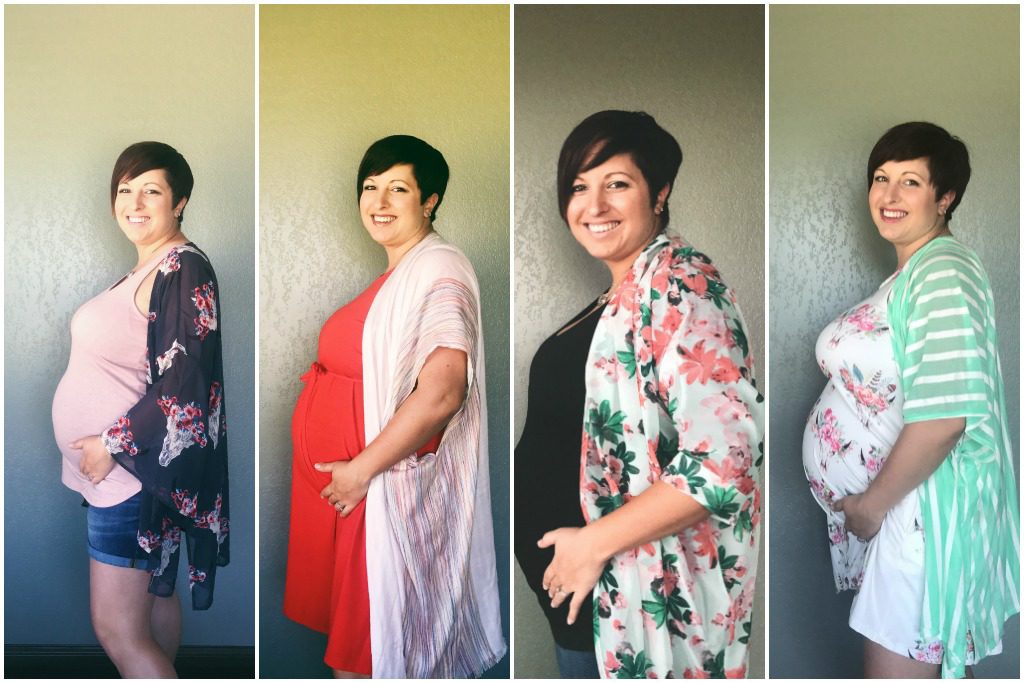 Prior to pregnancy, I had just waded into the kimono trend. Now it is safe to say that I am full on obsessed. I think I went from having one or two to making a whole section in my closet. I love pairing kimonos with a solid tee or tank or even with a dress.
Amazingly, I found some great kimonos via Amazon that are seriously a steal.
Both in store and online Target offers some great kimono or "swimsuit coverup" options. As with anything via Target though, you've got to pick them up right when you see them as they sell out fast.
PinkBlush is another great source for kimonos, they offer both maternity and non-maternity clothes. I will say though that these kimonos come with a lot higher price tag. But I have been extremely happy with the quality and styles. If you are a Zulily addict, watch Zulily as they are on sale over there pretty frequently.
Some other favorite places to pick up kimonos is at my favorite boutique stores. I have found several at some local boutiques or while shopping when I travel. Here are a few of my go-to favorites for kimonos specifically.
Tees & Tanks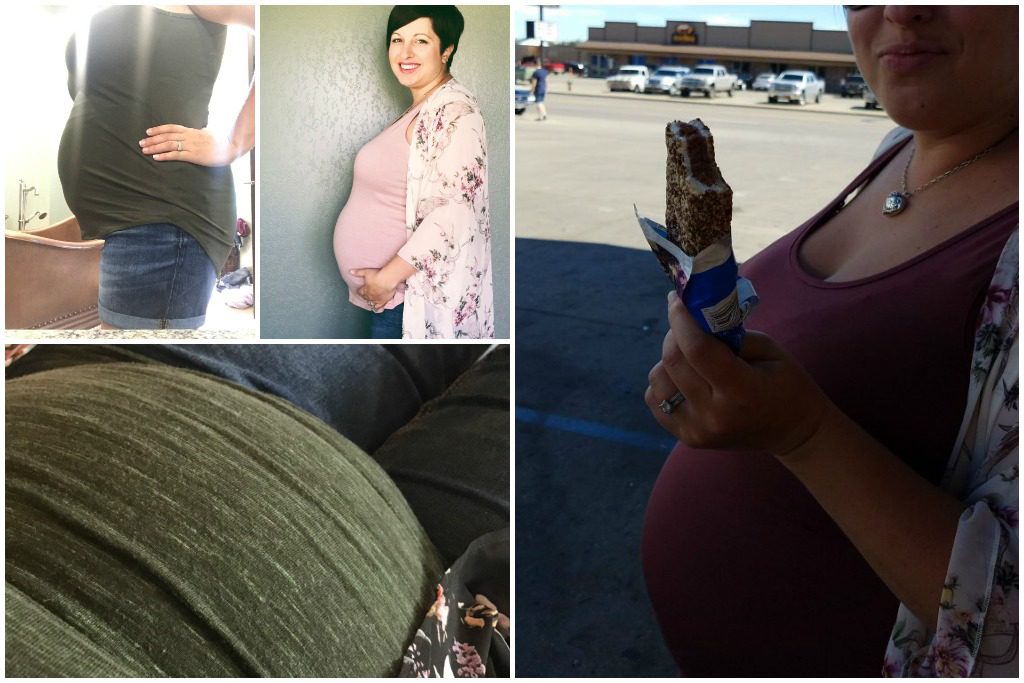 Finding solid tees and tanks that are comfortable to wear every day and fit a growing pregnant belly isn't the easiest task. I am pretty picky when it comes to my tees and especially my tanks. I found some last tanks last summer via Old Navy but those don't fit my belly. Luckily, I have found two options that I LOVE, LOVE, LOVE and I think I have seriously ordered them in every color they come in!!
These Liz Lange Maternity tees from Target are hands down my favorite. I like the v-neck cut and the heathered material. They are seriously so comfortable and pair nicely with a kimono to dress it up a bit.
For tanks, while shopping in Savannah, I stumbled across a brand of tank called Emma's Closet. They make the tank in a razorback style or a traditional scoop neck style tank. The material is so comfy and stretchy and the fit is PERFECT. They are a little longer tanks which I think makes them work well for maternity purposes. The bottom of my belly isn't hanging out 😉 And since these aren't maternity tanks so I will be able to wear them post pregnancy as well. Upon doing some Googling, I found them on Amazon as well!
Pants, Shorts, & Capris
When I finally gave in and had to buy maternity pants, it was a battle to find some that fit like my favorite skinny jeans do. After ordering several pairs online, I finally broke down and went in to the store to try some on. I ended up falling in love with Jessica Simpson's line of maternity jeans and capris. They fit perfect AND they still look stylish. And the best part is that they don't loosen up or fall down at all during the day. I am amazed I have made it this far by rotating through two pairs of capris and one pair of jeans. Thankfully the weather is now warmer!!
With the weather getting warmer and an early heat spell, I figured I better prepare and order a pair of shorts. Shorts seem like they are IMPOSSIBLE to find for women who don't want them riding up your crotch or butt, let alone find some that are maternity. I took a chance on some Liz Lange brand shorts from Target and oh my gosh, they are perfect!! So perfect that I have ordered another pair! They are the perfect length, not too short and not too long and they wear super comfy without riding up or sliding down during the day.
I haven't dabbled much in dress pants or anything like that while pregnant. Luckily I found one pair of solid black twill style skinny pants that I can wear as "dress pants" if the need be. Otherwise, I mostly stick to jeans or dresses if I want to dress up.
Dresses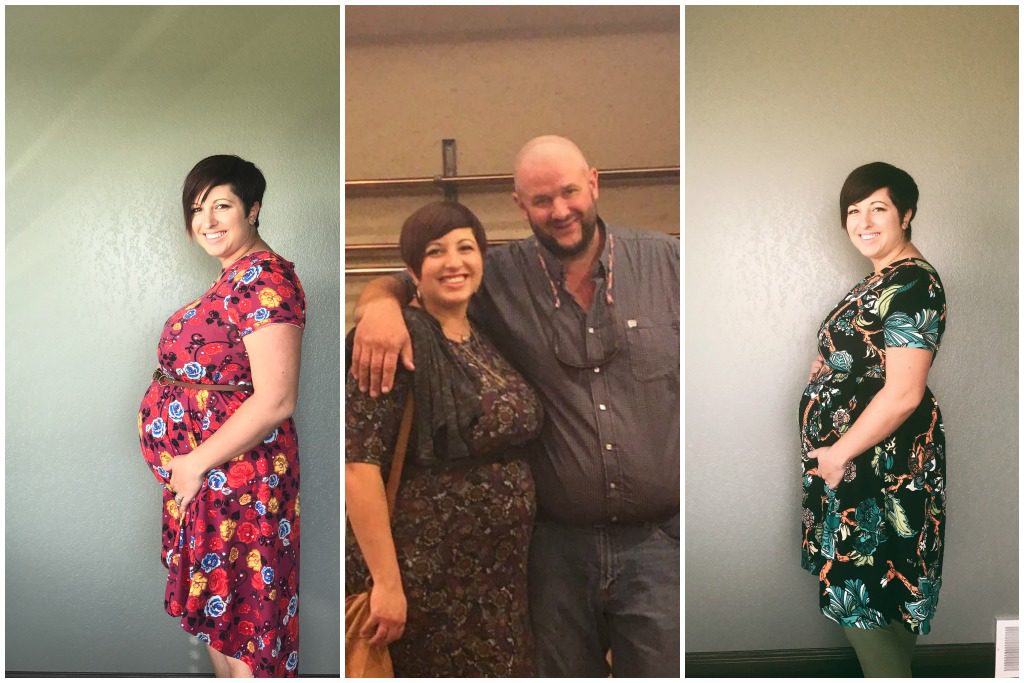 Since I became pregnant and realized I would be spending the summer with a very large belly, I have been waiting for summer dress weather to hit North Dakota! For those of you who know me, you know I love dresses and I already have a closet full of them. Some of them I bought pre-pregnancy I have still been able to wear and some of them have become too tight around my belly OR are too short once I put them over my belly. I will share a couple of my favorite options I've found, some are maternity styles and some are non-maternity styles that will work while pregnant.
LuLaRoe had become a new obsession prior to my pregnancy. I seriously love so many of their styles of tees and especially their dresses! Three of their dress styles have become a hands down favorite while pregnant. All three are completely different, but absolutely adorable.
This dress is more of a "tee shirt" dress that is flowy. I wear a small in the Carly, even while pregnant. Since it is pretty flowy, I like to belt the dress with a skinny belt high at the waist.
This style is one I wasn't sure I was going to like pre-pregnancy because I wasn't big on having anything fitted in my midsection. Turns out when I tried it on, I loved it! The bold prints helped mask or hide any problem areas I felt I had. Now while I am pregnant and into wearing more fitted stuff, this dress is perfect! I love the knee length and the 3/4 length sleeves on it as well. In order to add a little more "shape" to the dress, I will also belt this one high at the waist.
The Amelia dress was hands down one of my favorites pre-pregnancy, it had a fitted bust and then has an a-line style flow on the bottom. The best part about the dress? It has pockets!! It can also be worn backwards with the zipper in the front! Love!
Ruched Side Shirt Dresses
I have really been into comfort when it comes to dresses, so these tee shirt style dresses have totally appealed to me. I have found two styles that I love and I have ordered in almost all of the colors. It is also tough to pick these up because they sell out quickly too. One is from Target, Liz Lange again. And the other I found amazingly from Walmart! They actually have some pretty adorable maternity stuff at Walmart, you've just got to dig or search online.
Agnes & Dora
Another fun distributor brand I have come across has been Agnes & Dora. I haven't bought all too many pieces from them, however, shopping the sales and lookbook, it seems as if there are MANY maternity style options as far as dresses go. I did pick up a Spenser style dress that since I am short fits me like a maxi dress. It is absolutely adorable!! I love the fabric and feel. It is just a BIT long on me, even with a pregnant belly. So I just wear wedges or let it flow a little long when I wear it.
I seriously LOVE maxi dresses, but they are a BATTLE for me to find since I am only 5'2″. Most maxi dresses are the length of my total height which doesn't work, so when I find maxis that work I HAVE to pick them up! I have been wearing several other maxis that I have in my closet, but this Spenser is a perfect addition to that! I may need to pick one up in another color, especially since I can wear them post-pregnancy as well!
There you go! There's what I have been loving and wearing since I've been sporting this baby bump! Let me know if you have any additional favorites I should check out! And also, let me know if you love any of these styles as well!!
Happy shopping Mommas!!