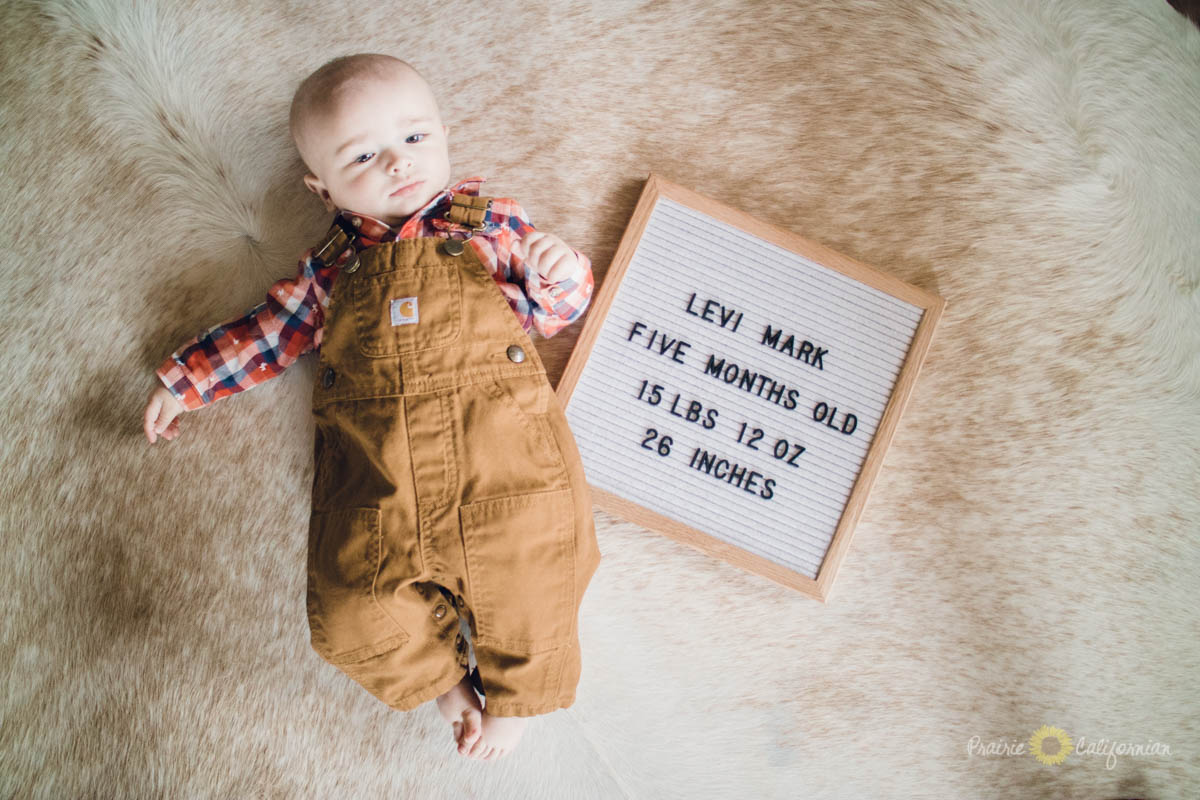 I cannot even believe we are coming up on Levi being a half of a year old… where has the time gone!? I feel like I was just taking his four month photos and writing an update and boom, here we are five months! So much continues to change every month. So many new firsts from week to week lately. He is growing and learning at such a rapid pace it is amazing!
The big accomplishment this month was the fact we all successfully survived being out of town for a week without Levi. He stayed with his grandma and grandpa while the hubby and I went to Hawaii. Leading up our trip was a little intimidating – I had a lot of anxiety about all of the "what ifs". But I finally reached a place where I just needed to LET IT ALL GO and enjoy my time with my husband. I learned a lot from leaving our little man. There's no doubt that I love being a mommy to Levi, but I can't forget that I was a wife to Mark first. Keeping our marriage alive and thriving as exhausted first time parents has not been easy, but it is so important. We are extremely blessed to have a village who helped us take the time to be able to enjoy time as husband and wife. Of course, we woke up every morning saying "I miss Levi", but the time away was good for us and our marriage. It is amazing how you just fall into a routine that focuses on baby before marriage and how your marriage can deteriorate without you even realizing it. Anyway, Levi survived and had an amazing time with his grandparents and we got to reconnect and refresh in Hawaii – win/win!
We returned home to a little man who seems to have grown over night! I swear Levi grew an inch when we were gone. We are now wearing 6-9 month clothes, what!?!? And oh my gosh, alllll the new noises! He never stops talking and making noise. In fact, when he goes quiet, I get concerned! He has figured out blowing raspberries/bubbles/farts – it is HILARIOUS! He continues to move, move, move nonstop. He wants to crawl in the worst way and I have a feeling will be in no time. He has been working on rolling from back to belly and finally mastered it. His proud little face once he figures new things out is beyond adorable! He continues to be a smiley, giggly little man most days!
Levi also visited his third state and took his second plane ride as we visited some friends in Montana! He got to experience his first snow – ironic that we have to travel to Montana for him to experience his first snow when we live in the frozen tundra – but it has just been so frigid cold we haven't spent any time outside this winter yet. During our trip, Levi decided he was going to break his first tooth – my goodness – our boy goes hard. It reminded me of the newborn days when he had reflux. Poor little man was just miserable one minute and crying and then happy and back to his normal self. We are in for it if every time he breaks teeth, he has the regular meltdowns and issues with eating. YIKES!!!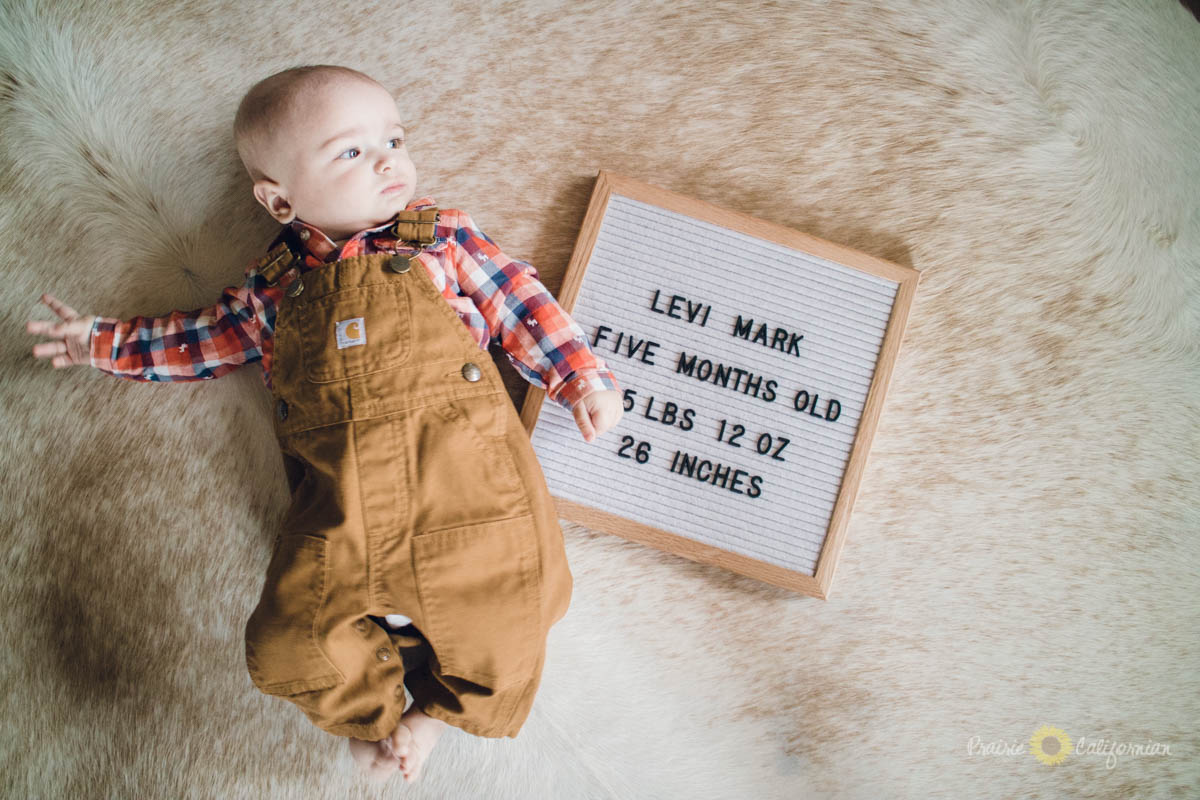 LEVI STATS
Age: Five months
Weight & Height: 15 lbs. 12 ounces, 26 inches
Sleep: Between sicknesses and teething, sleep has been up and down. When he is feeling good and himself, he will usually only get up once or twice a night to eat and sleeps anywhere from 4-6 hour stretches. He has begun to consolidate his naps and only takes two (maybe three) a day. One long nap (hour and a half to close to three hours!) and one shorter nap. Lately he has been favoring his morning nap for his long nap, but sometimes he will reverse that. He is also awake for longer stretches and can sometimes goes 3 or more hours without sleep. He loves going into a his bed and just smiles when I put him down at nights – he has a blankie he loves on and eventually goes to sleep. Sleep training him was one of the best things we ever did! Sometimes though, I still nurse or rock him to sleep – especially when he's not feeling well. But it helps to know that he is fully capable of putting himself to sleep most of the time.
Recent Milestones: Starting to tripod sit, rolled from back to tummy successfully, first poop in the tub (oops!), took formula like a champion, took his second plane ride, visited his third state, tried cereal (wasn't super interested but also didn't hate it), mastered blowing raspberries and does all the time, successfully made it through his first long term time away from mommy and daddy.
Favorite Things: Looking around at anything and everything – distraction is REAL, especially when we are eating. Current loves are : sitting up and looking around – his head swivels like an owl, evening giggles front of the fire giggling with Mom, mornings spent smiling and playing with Dad, grabbing anything within reach and putting it in his mouth, drooling and drooling some more, jumping in our Jolly Jumper, and blowing raspberries!
Advice to New Mommas: In the thick of it all, it is easy to take your spouse and marriage for granted. It is easy to put priority on your kids above all else, but we were wives before we were mothers and remembering that is important. It is hard to leave our littles – there is worry, anxiety, and guilt all associated with leaving them. But having time as just husband and wife is so important! As parents, we can be better at our jobs when we are in sync and working together to raise our children. There is already so much bitterness and resentment out there when it comes to marriages – look at how many marriages end in divorce – don't forget to put the work in on your marriage and make it a priority, even with a new baby!!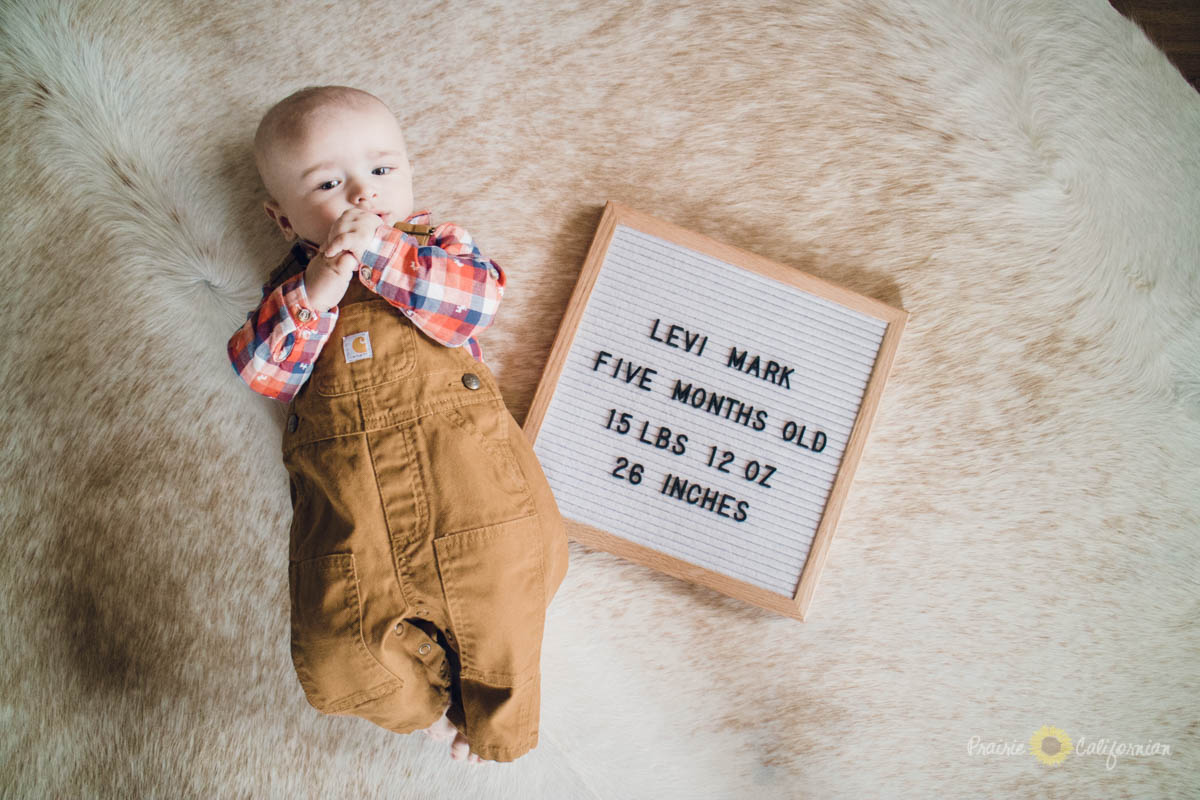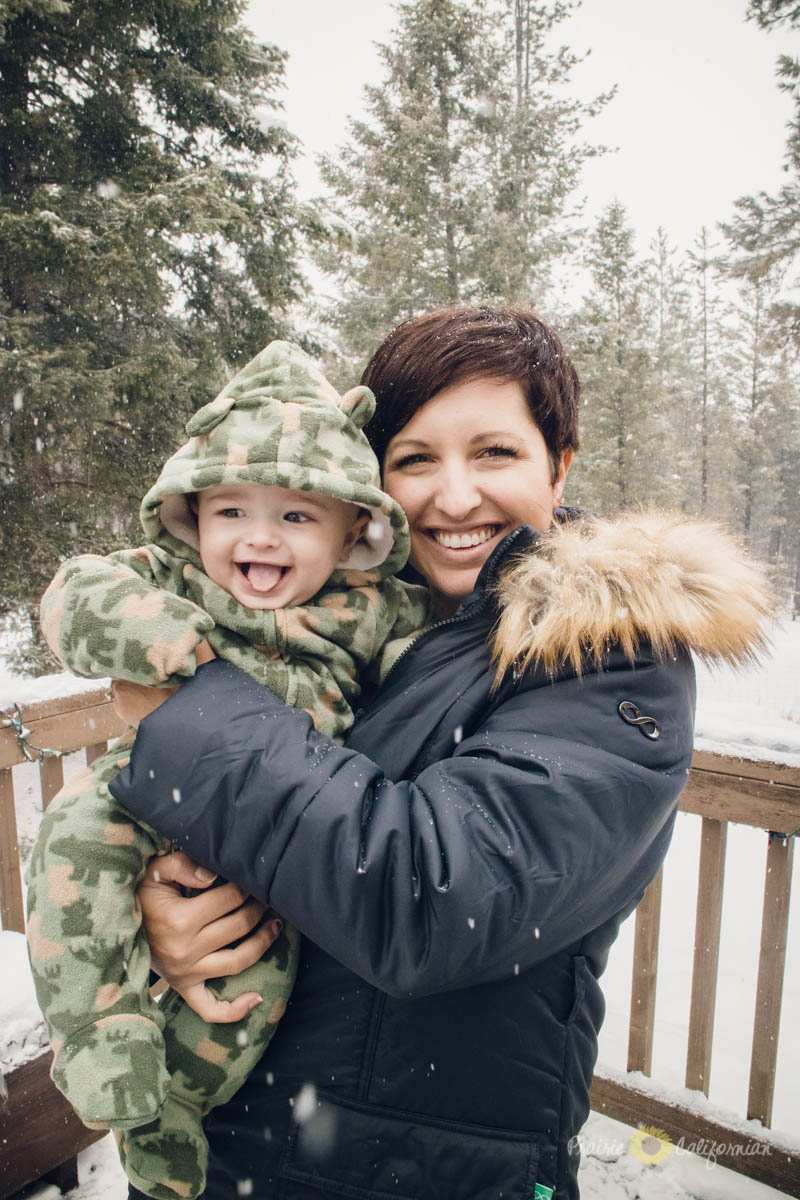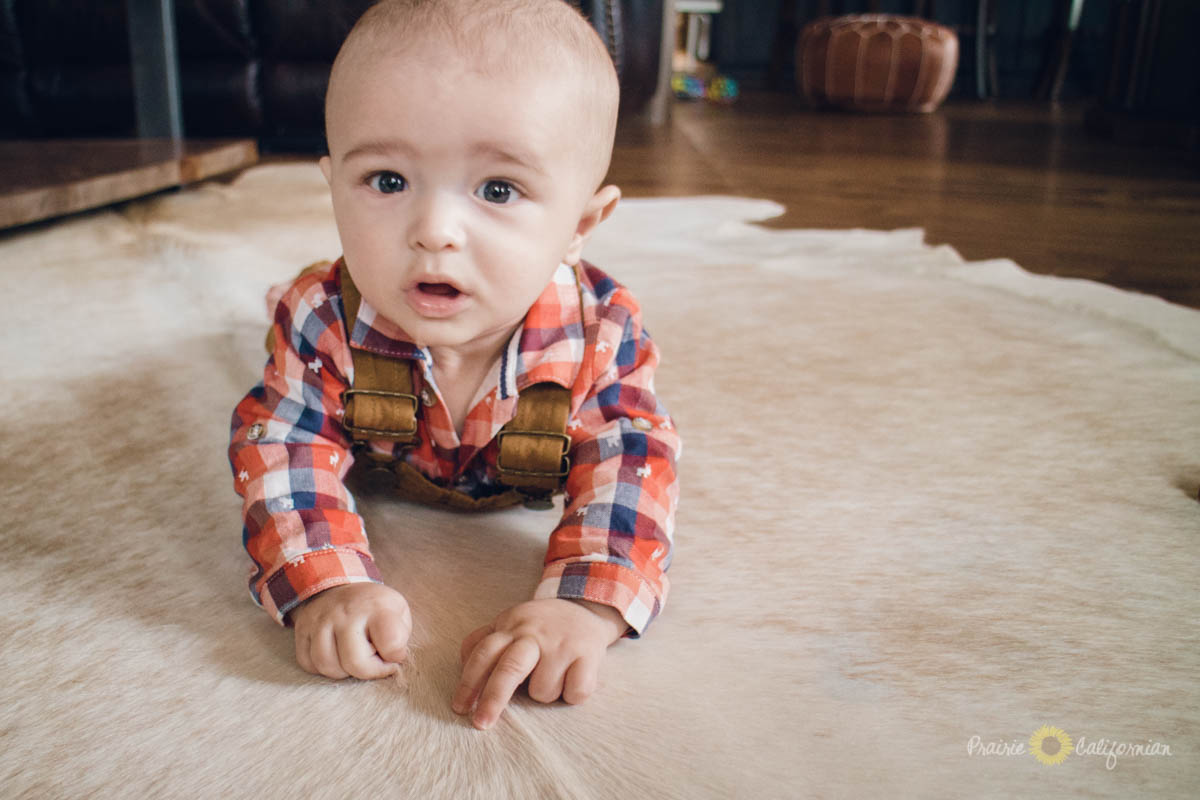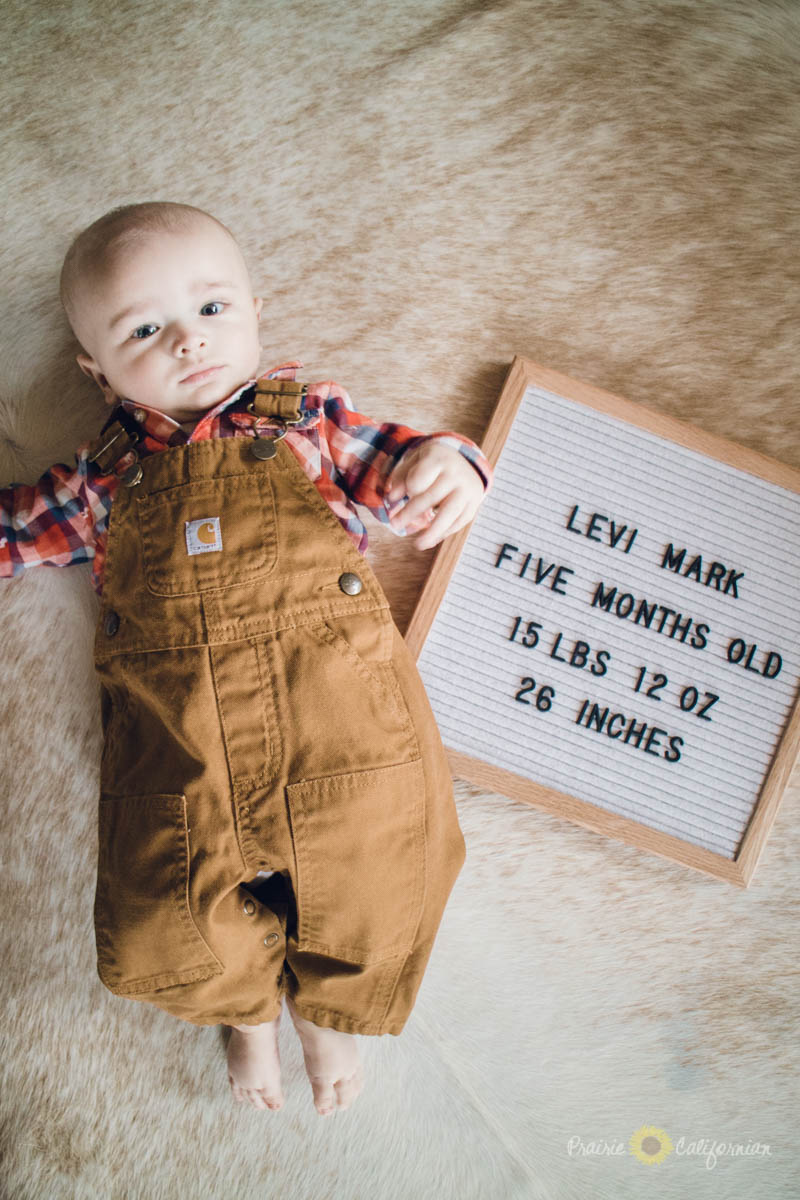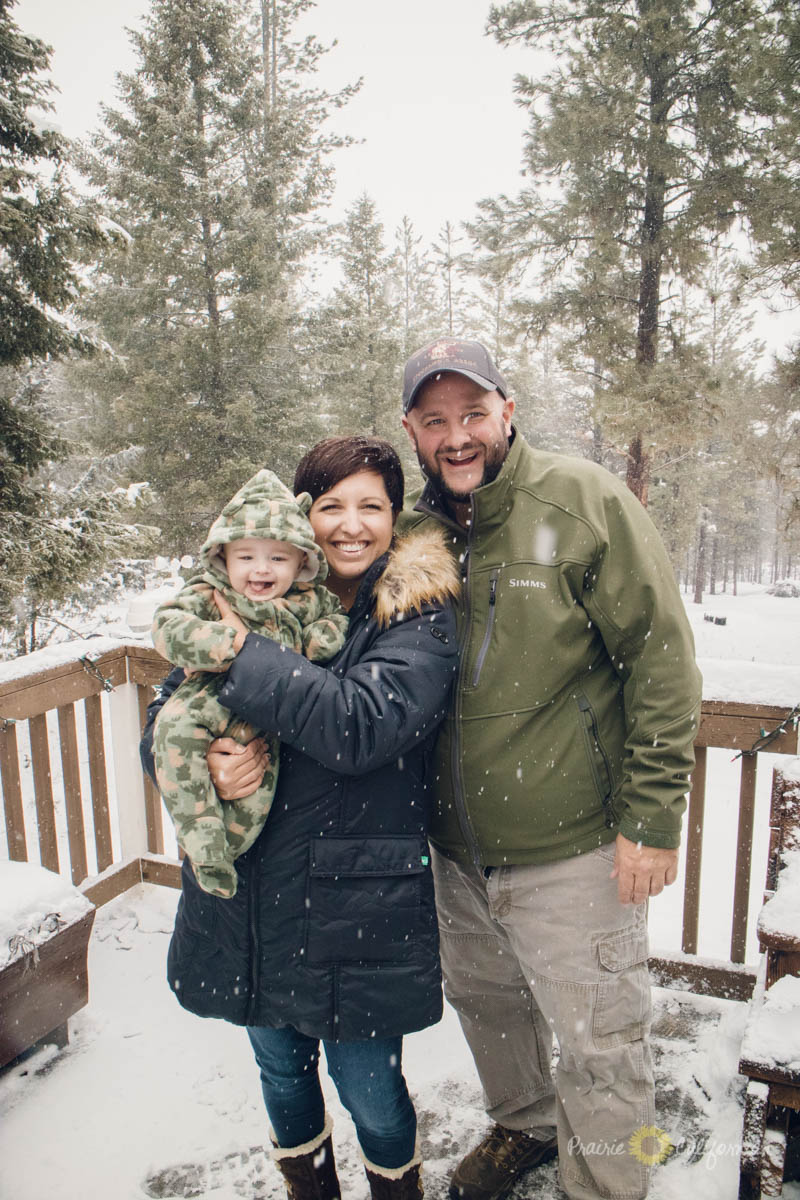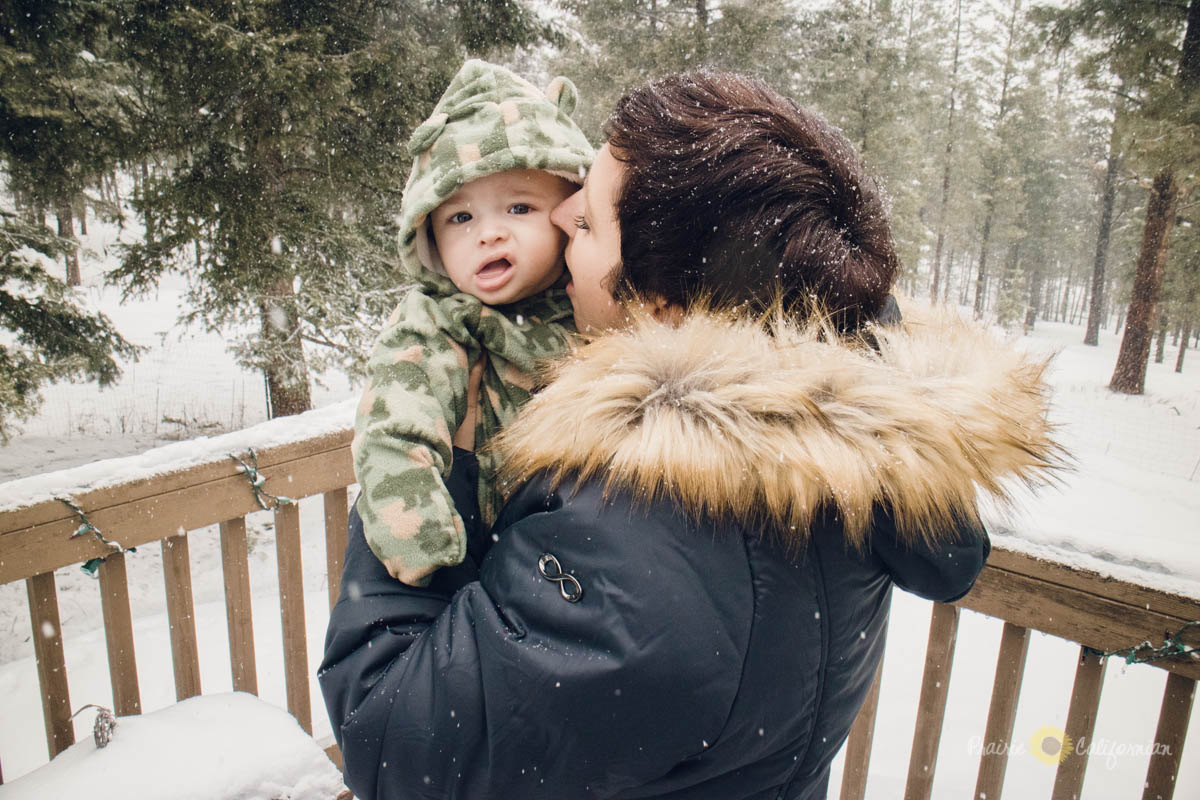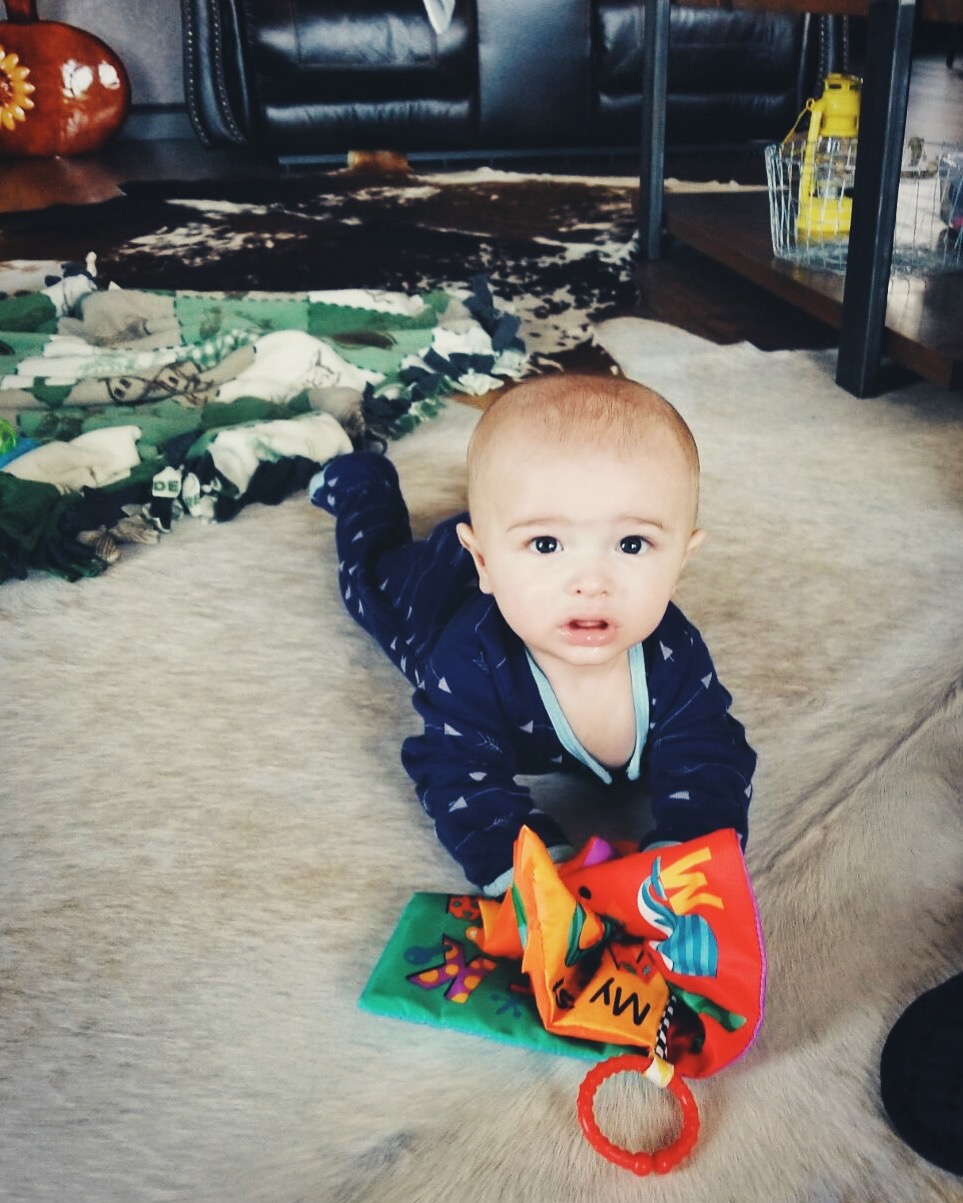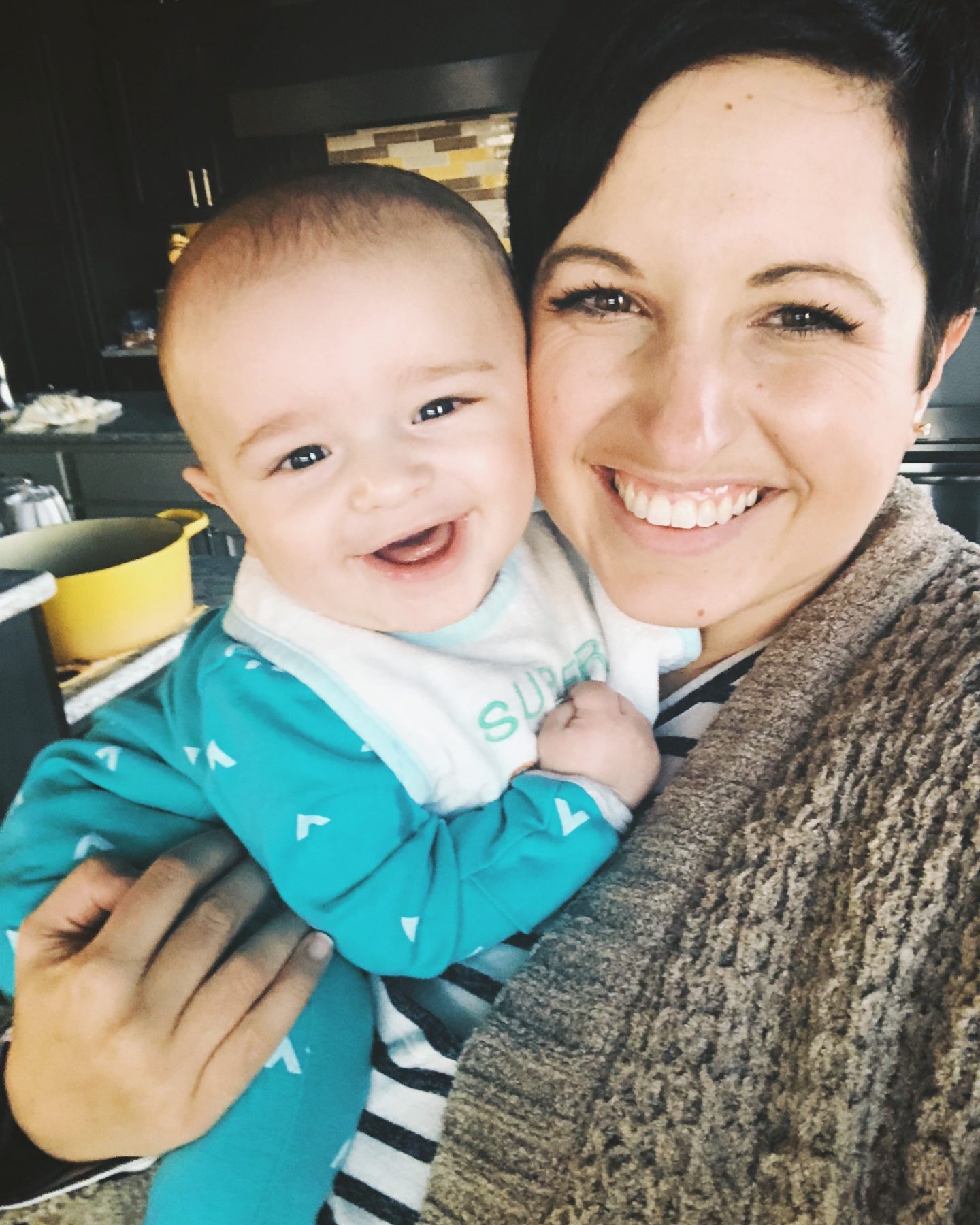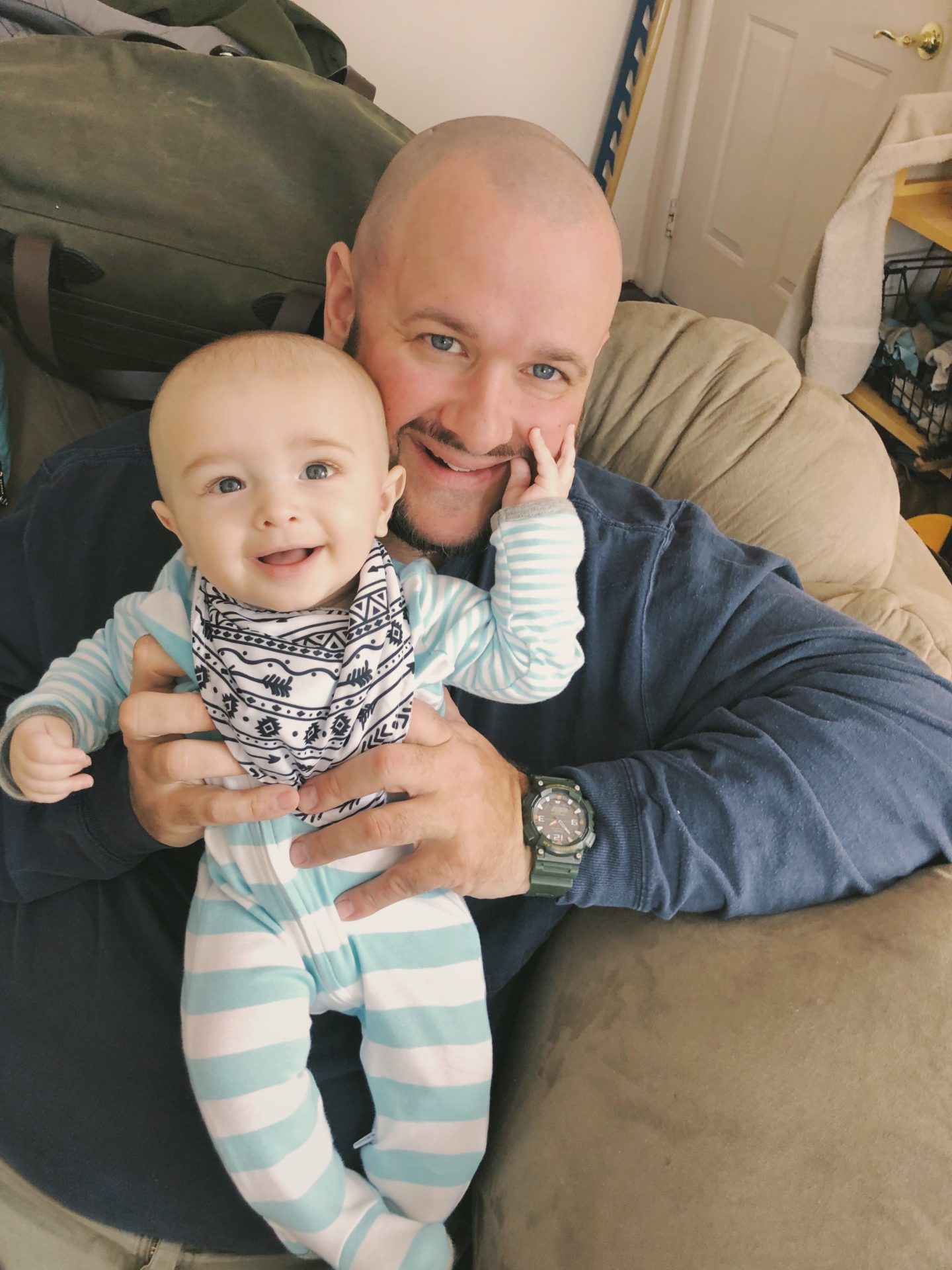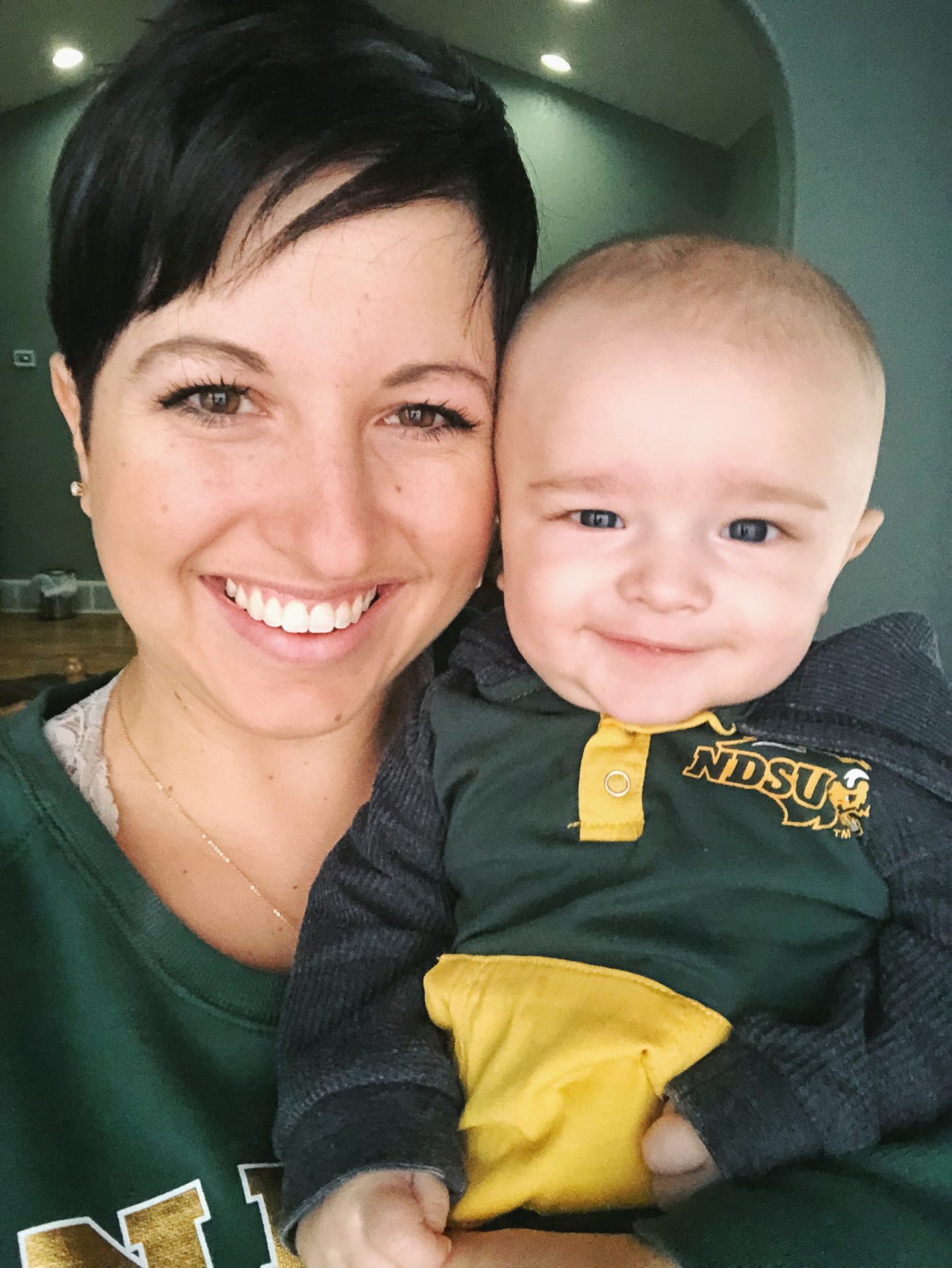 Little Man – Boy, bubba, you just keep growing and learning so quickly! Your Daddy and I love watching you learn new things every day. You keep us laughing, that is for sure. You are so talkative and perceptive. You do not miss much at all! Your smiles and giggles are the best parts of our day. You just started to love grabbing our faces and we love that time we spend bonding with you. When Daddy and I were gone, we missed waking up with you every morning! We love you our sweet boy!! Happy Five Months!