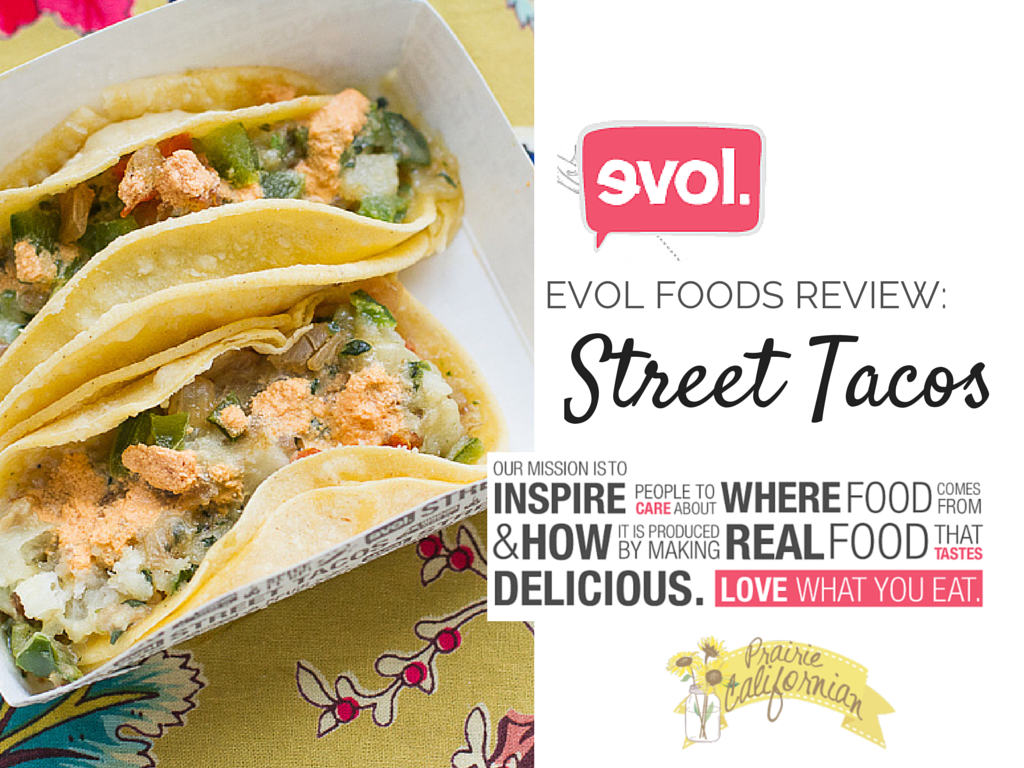 Lately it seemed like everywhere I turned, everyone was raving about these Evol Foods meals. I had not even heard of the company, let alone seen their products in the stores. I stalked their website for a bit and when I saw they put out a Truffle Mac and Cheese, I fell in love. The lovely people at Evol Foods agreed to send me out some samples to try of various meals and small plates such as their new street tacos.
What is Evol Foods?
Evol Foods has made it their passion and dedication to change the way we view freezer foods. Here's a quote from their website: "Freezing used to be a way to miraculously preserve perishable foods. It still is. But somewhere along the way, frozen food got a bad name. Maybe it's because we started to freeze everything, like batteries, panty hose and disturbingly symmetrical "Salisbury steaks." Well, we think freezing is still pretty amazing. So, we're making it cool again by freezing fresh, simple ingredients in order for busy people to eat better, healthier food whenever they want."
And their mission statement clearly sums up exactly what they aim to do.

Inspiring loving your food and food I can cook in the microwave!? I am sold! I was so excited to receive my samples in the mail.. Here's a sneak peek at what they sent me!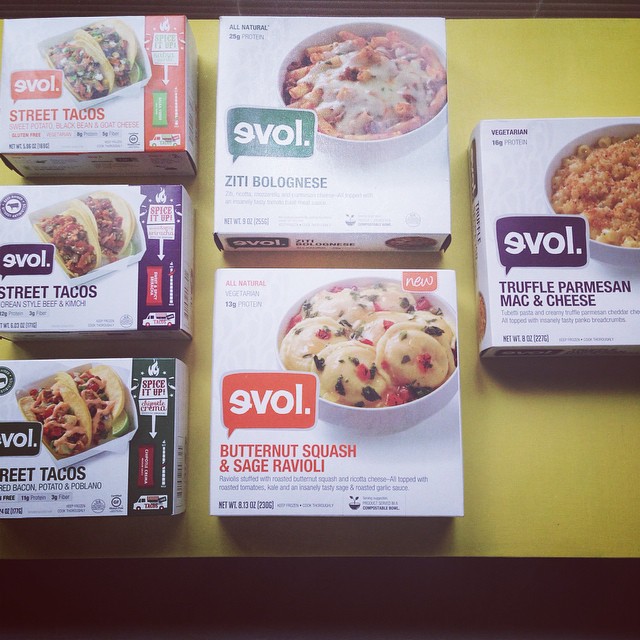 This weekend, having consumed a few too many adult beverages and completely forgotten I had these, I was pleasantly surprised elated to find them in the freezer. I popped one of the street tacos in the microwave after carefully reading the directions. I decided to try the bacon, potato, and poblano tacos.
Street Tacos: Bacon, Potato, & Poblano with Chipotle Crema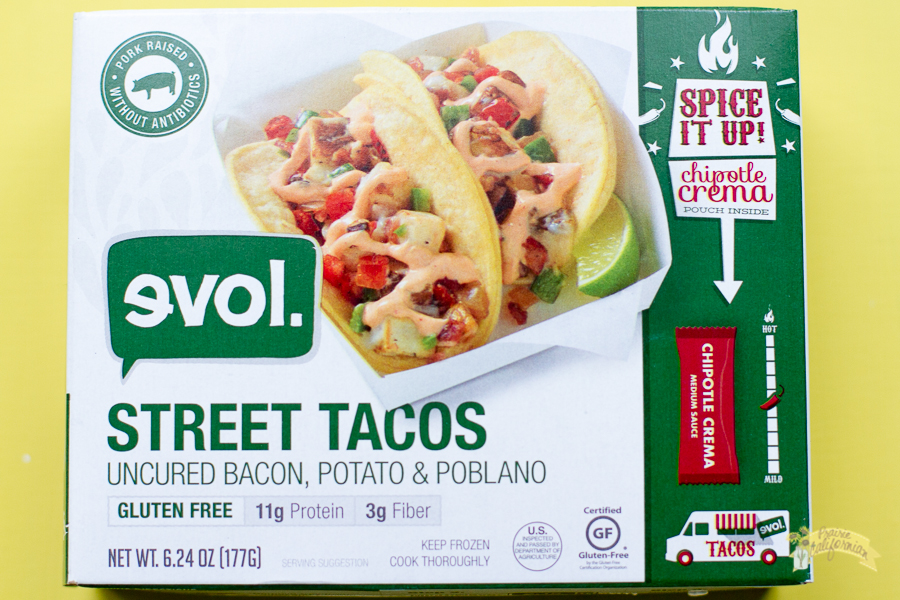 These little tacos looked exactly like the street tacos you would find back in California from my beloved taco wagons! Gosh, I miss those! They come complete with a little bag of sauce. This one was a Chipotle Crema sauce.
The directions read to place the tacos in the microwave for 2 minutes, 15 seconds and then allow them to sit for a minute. In order to defrost the sauce, place it in a glass of hot water. While the tacos didn't come out of the microwave looking like they do on the box, I will say, I was pleasantly surprised how well they held up in the microwave.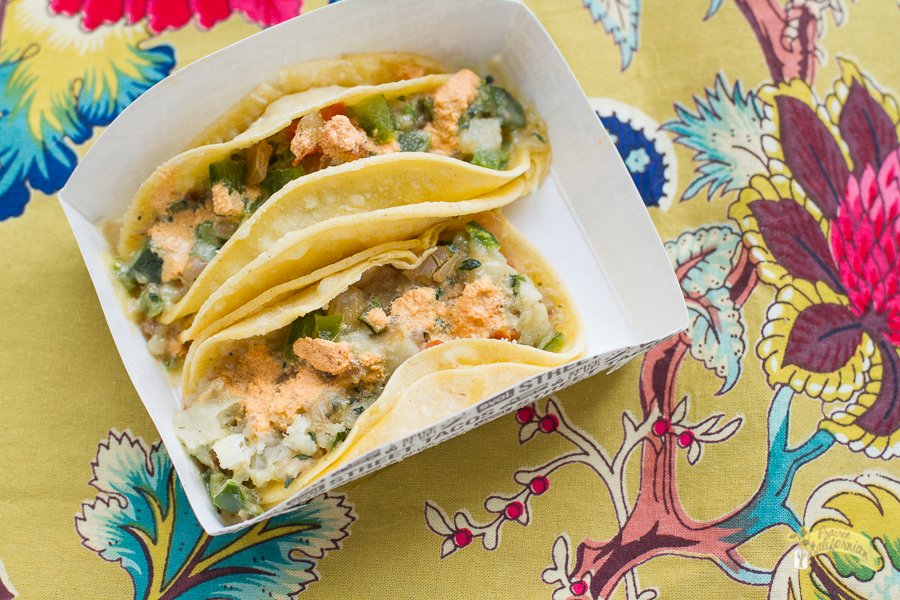 The tortillas did get a bit soggy, but I guess that's expected. The peppers and bacon still had some crunch to them, just as if you would have cooked them from fresh. And the cheese melted PERFECTLY on these bad boys. The sauce didn't defrost as well as it should have in the water. But it did say NOT to put it in the microwave.
I thoroughly enjoyed these little tacos. I think they would be nice to have on hand for a once in a while treat. I can't wait to try the other flavors!!
I was also pleasantly surprised on the nutrition facts for these two tacos. 320 Calories, 17 grams fat, 540 miligrams sodium, 31 grams carbs, 3 grams fiber, and 11 grams Protein. Compared to many other freezer meals, this wasn't too bad.
So where can you find these?
I know most Target stores carry Evol, but you can use their website to search for your closest retailer.
Eventually as I get to trying each and every one, I will be reviewing them here on the blog!
Have any of you tried Evol's products? Like em? Love em?